Cory Booker: "America, We Will Rise!"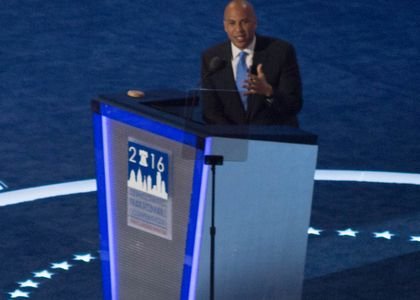 But love – love knows that every American has worth and value, no matter what their background, race, religion, or sexual orientation. Love recognizes that we need each other, that we as a nation are better together, that when we are divided we are weak, we decline, yet when we are united we are strong – invincible!
This understanding of love is embodied in the African saying: "If you want to go fast, go alone, but if you want to go far, go together." This is one reason I'm so motivated in this election. I believe it's a referendum on who best embodies the leadership we need to go far, together.
Donald Trump isn't that leader.
We've watched him try to get laughs at others' expense; try to incite fear at a time when we need to inspire courage; try to rise in the polls by dragging our national conversation into the gutter. We've watched him cruelly mock a journalist's disability. We've watched him demean the service of my Senate colleague. "He's not a war hero," Trump said. "He was a war hero because he was captured. I like people who weren't captured."
We've watched him, with a broad and divisive brush, say that Mexican immigrants who came to America to build a better life are "bringing crime, they're bringing drugs." He says many of them are "rapists." He said that an Indiana-born federal judge can't be trusted to do his job because of his Mexican ancestry – a statement that even fellow Republicans have described as racist.
We've watched and heard him call women demeaning and degrading names. "Dog." "Fat pig." "Disgusting." "Animal." It's a twisted hypocrisy when he treats other women in a manner he would never, ever accept from another man speaking about his wife or daughters. In a nation founded on religious freedom, he says ban all Muslims, don't let certain people in because of how they pray.
Trump says he would run our country like he has run his businesses. Well, I'm from Jersey, and we have seen the way he leads. In Atlantic City, he got rich while his companies declared multiple bankruptcies. Yet without remorse, even as people got hurt by his failures, he bragged, "The money I took out of there was incredible." Yes, he took out lots of cash but he stiffed contractors – many of them small businesses, refusing to pay them for the work they'd done. America has seen enough of a handful of people growing rich at the cost of our nation descending into economic crisis.
Americans, at our best, stand up to bullies and fight those who seek to demean and degrade others. In times of crisis we don't abandon our values – we double down on them. Even in the midst of the Civil War, Lincoln called to the best of the country by saying, "With malice toward none and charity toward all." This is the history I was taught.
My parents never wanted me to get too heady. Gratitude was to be my gravity, so they never stopped reminding me that my blessings sprang from countless ordinary Americans who had shown extraordinary acts of kindness and decency; people who struggled, sweat and bled for our rights, people who fought and paid the ultimate price for the freedoms we enjoy. I was told that we can't pay those Americans back for their colossal acts of service, but we have an obligation to pay it forward to others through our service and sacrifice.