Rowan College at Burlington County offers high school students new opportunities to earn college credit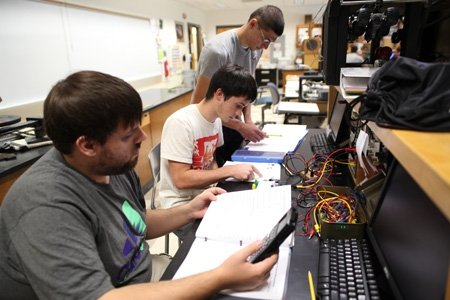 High School students have new ways to earn college credits at Rowan College at Burlington County (RCBC), which is partnering with the Burlington County Institute of Technology (BCIT) to provide students an engineering path and is offering a new discount on certain online courses to high school students.
The separate initiatives were approved by the college's Board of Trustees on June 21 as part of RCBC's new College Head Start in High School, or CH2, initiative aimed to reduce the time and cost required to attain a college degree. CH2 also includes the existing College Acceleration Program (CAP) in which high school students earn college credit through high school instruction, and traditional dual enrollment by which high school students receive permission to take RCBC courses outside of their regular school day.
"The College Head Start in High Schools is a wonderful addition to our Rowan University connection that forms one of the country's first seamless paths from high school diploma to associate and bachelor's degree," RCBC President Paul Drayton said. "Research shows that giving high school students a head start toward their degree increases their grades, chances of attending college and, most importantly, earning a degree. For motivated students, the question is simple, 'Why wait?' Earn college credit now."
Eligible BCIT students can enter the program, the Electronic and Computer Engineering Technology Academy, and earn more than 30 credits, or more than halfway toward an associate degree in Electrical Engineering Technology. RCBC courses will be offered on BCIT's Medford campus allowing students to complete their high school degree while starting their college degree at a much lower cost than at a four-year college.
"This is a great opportunity for our students to get closer to a college degree and a career in technology without high student debt," said incoming BCIT Schools Superintendent Dr. Christopher Nagy. "We are proud to offer this innovative concept to our students who will get one step ahead toward their postsecondary degree through classroom instruction and hands-on laboratory experience. I thank Schools Superintendent Dr. Christopher Manno for his visionary leadership and Assistant Superintendent Dr. Todd G. Bonsall for his creative work to implement this extraordinary path for our students."
Students in this program can graduate from RCBC one year after their high school graduation. Students interested in learning more about the program can contact BCIT Coordinator of Admissions and Recruiting Dr. Erin Conti at 609-267-4226, ext. 8245 or EConti@bcit.cc.
The partnership still requires approval from BCIT's Board of Education, which is scheduled to consider the measure later this month. RCBC is one of about 100 community colleges in the nation accredited by the Accreditation Board for Engineering and Technology (ABET) and Rowan University's Mechanical Engineering program was ranked in the top 10 in the U.S. News & World's 2015 report for ABET-accredited programs whose highest engineering degree offered is a bachelor's or master's.
Burlington County Freeholder Director Bruce Garganio called the new path from BCIT to RCBC a perfect example of how county agencies should work together and share services.