Rutgers triumphs at black law students mock trial competition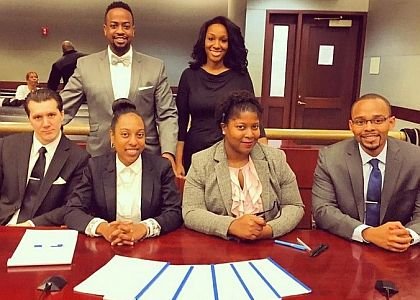 As the nation responds to racially charged social unrest, aspiring attorneys at Rutgers are proving their exceptional trial skills by winning cases as part of the Black Law Students Association mock trial competitions.
Rutgers Law School recently earned first place at the Mid-Atlantic Black Law Students Association (BLSA) Thurgood Marshall Mock Trial Competition in Philadelphia, which included 13 participating law schools from Pennsylvania to Virginia, including the University of Pennsylvania, Howard University, Temple University, Villanova University, Penn State, and others.
The Rutgers Law team, which will compete in the National Black Law Students Conference in Baltimore March 9 through 13, consists of law students Frantz Duncan '16, Ayoola Stewart '16, Jarrod Welsh '16, and Kisha Pinnock '17, and alumni coaches Marcus Washington '12 and Angella Middleton '14. The Hon. Dennis Braithwaite, a Rutgers Law School professor of professional practice of law, serves as faculty advisor.
Another Rutgers Law win at the Mid-Atlantic Region BLSA competition, included Sadé Calin '17 and Steven Okoye '17, who were awarded Best Petitioners' Brief in the Frederick Douglas Moot Court Competition. Calin and Okoye currently serve as president and vice president of Rutgers Law's BLSA in Camden.
In the five plus rounds of competition, the Rutgers Law Thurgood Marshall Mock Trial team defeated teams from Georgetown, Washington & Lee, and the University of the District of Columbia David A. Clarke School of Law. All participating teams confronted the problem surrounding an altercation between the decedent and the defendant with the questions of the case addressing whether the defendant punched the decedent in self-defense and did the decedent's diabetic condition kill him or was the defendant's punch a trigger to health consequences, resulting in death.
According to Ayoola Stewart, Rutgers' winning strategy was its skilled defense. "The defense half of our team did an expert job of tearing down the prosecution's theme and using it against them," she says. "In the prosecution's rebuttal, I also deconstruct the defense's theme."
Welsh supports this and emphasizes the team's strength in thinking on their feet. "Each side of our team had winning days by being focused, confident, and on a hot streak at the right time. In winning the final we simply did a better job of responding to our adversaries' case, while they didn't address our case but instead delivered practiced performances."
This out-of-the-classroom experience with peers from other law schools made the team members reflect positively on their Rutgers legal education.
"Even though law school has not been easy, I definitely know that Rutgers has provided me with the skills, tools, and resources to become a great prosecutor one day," notes Stewart.
Aside from the hours dedicated to practicing and the talent of the team in place, Frantz Duncan also says winning this competition connects back to the quality of the education he's received at Rutgers.
"During the competition I pulled from my course work in evidence, trial advocacy, criminal law and persuasion in legal writing and became a true advocate," says Duncan, who will serve as a law clerk for the Hon. James Hely after graduation. "I was able to compare myself to students at other universities and could see that I am beyond prepared to be an attorney."