Deadpool makes triumphant return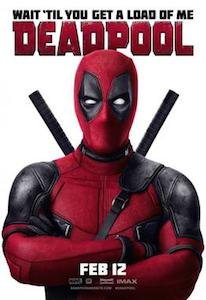 The mercenary with a mouth makes his triumphant return to the silver screen in Marvel comics latest, Deadpool. Unlike previous Marvel movies where a character is rebooted and a new actor steps in to take the helm, Ryan Reynolds comes back to play the titular Deadpool in his first solo film.
Some may remember the character's first film appearance in X-men origins: Wolverine but Deadpool's inclusion in that particular film is almost all but forgotten besides a few jabs at how poorly it was received by fans due to how the character was handled.
However, this time around, director Tim Miller and Reynolds said they intended to craft the quintessential Deadpool movie-- and they delivered. Deadpool is not your typical hero for he is loud, obnoxious, and especially vulgar.
So vulgar that the film understandably received a hard R rating for all the sex and toilet humor for which the character is known and loved. The film could be considered a comedy as well as a superhero flick since Reynolds breaks the fourth wall several times to fit in as many jokes as possible during the few breaks between and during the action sequences. The film does a lot right and does do the character Deadpool justice, but it's far from perfect.
Deadpool, like many other Marvel movies, suffers from having a lackluster lead antagonist. Ed Skrein plays Ajax, the man responsible for Deadpool's deformed appearance and superpowers. The dialogue between Skrein and Reynolds is satisfactory at best but the main issue is the film's inability to make Ajax stand out from the crowd of common thugs he employs. His first appearance on screen is an example of this since it's difficult for the audience to make out who the leader is since they're all draped in the same black and grey mercenary outfits. The only thing that sets Ajax apart from his followers is that instead of looking like another stock henchman with a gun, he looks like a stock henchman with a gun and a mutant ability that one wouldn't even notice at first.
Forgettable villain aside, Reynolds and company followed through on their promise by providing a Deadpool movie true to the source material that will be sure to please fans and newcomers alike.