New Vineland marketplace plans grand opening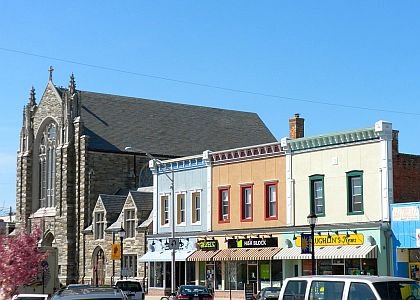 VINELAND, NJ—The Spot, downtown Vineland's dynamic new marketplace located at 618 E. Landis Ave., will mark its official grand opening with a five-day celebration from Wednesday, Feb. 10 through Sunday, Feb. 14.
The celebration will begin on Feb. 10. Following the business's 10 a.m. opening, a gala ribbon-cutting will take place at 12 p.m., co-sponsored by the Greater Vineland Chamber of Commerce and Main Street Vineland, featuring state, county, and city representatives, as well as other dignitaries. A light lunch will be served following the ceremony.
Special events and sales will take place throughout the market.
"The Spot is a dynamic, ever-changing marketplace with 28 vendors and growing, devoted to showcasing local entrepreneur, artists, designers, makers, and specialty shops under one roof—one SPOT," said John Casalinuovo, The Spot's operations manager. "The Spot is all about experience—experiences that you find only in unique shops that offer something new, fun, different, and inspiring. Just as the I.C. Schwarzman's department store, which was in this building, was an icon of Landis Avenue in its era, we want The Spot to be an icon of Landis Avenue for a new time and the generation."
"It is a shopping experience that appeals on a multi-generational level—from baby boomers to millennials," said store manager Robin Hope, noting the unique opportunity this gives vendors as well as the public.
"The central check-out at The Spot creates ease and convenience for shoppers who can pay for their items with one stop," Hope said. "Our unique central check-out allows small startup businesses to open shop and not worry about staffing issues and the high overhead cost of running a business."
In this way, according to Casalinuovo, The Spot serves the role of a business incubator by helping small up-and-coming entrepreneurs to spread their wings and establish themselves. A limited number of spaces are still available for prospective vendors. Those who are interested should call (856) 839-2825.
"We are very happy to welcome another new business to our downtown," said Main Street Vineland Executive Director Russell Swanson. "Occasions like this do much to celebrate our successes and it is a way to show new businesses our support. Businesses like this fit in perfectly with our goal to make our downtown fit and fulfill the needs and wants of the younger generation, while also serving all our residents."
The Spot's regular business hours are Wednesday through Saturday from 10 a.m. to 7 p.m. and Sunday from 10 a.m. to 5 p.m.
A summary of the four days of events follows. Check The Spot's website at www.spotattheave.com and their Facebook page for information on additional exciting events and door prizes during the celebration.
Wednesday, Feb. 10
12 p.m.—Ribbon-cutting ceremony sponsored by the Greater Vineland Chamber of Commerce.
Pizza and refreshments will be served
11 a.m.-2 p.m.—Free caricatures by local artist George Perez
Thursday, Feb. 11
2-4 p.m.—FREE Jewelry Making 101. Nadine Leeds of So Get Real will show the proper use of
tools and you can make a simple pair of earrings. Call (856) 839-2825 to register.