Stamp will honor Richard Allen, founder of AME church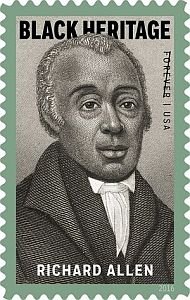 Richard Allen, the founder of the African Methodist Episcopal church and its first bishop, will be honored by the United States Postal Service with a stamp.
Born into slavery in Philadelphia, Pennsylvania, on February 14, 1760, Allen went on to become a preacher. He founded Mother Bethel African Methodist Episcopal Church in 1794 in Philadelphia.
"I saw the necessity," he later wrote, of "erecting a place of worship for the colored people."
Allen's inspiration later became the formation of the African Methodist Episcopal denomination in 1799.
On its website, the postal service announced the Forever stamp, recognizing Allen as an "inspiring figure whose life and work resonate profoundly in American history." It called the church "one of the most important institutions in African-American life."
The Rev. Mark Tyler, pastor of Mother Bethel AME Church, said in an interview with the Philadelphia Tribune that many of the parishioners signed the petition circulated in support of a postage stamp honoring Allen. He credited Jacquelyn DuPont-Walker, director of the Social Action Commission of the AME Church, with pressing for the stamp honoring the father of Mother Bethel.
"Our members are absolutely excited about the postage stamp, and that it would be unveiled at Mount Bethel," Tyler said, referring to a stamp issuance ceremony scheduled for Feb. 2 at the church, located at 6th and Lombard streets.
Bishop Gregory G.M. Ingram, presiding bishop of the First Episcopal District of the church, based in Philadelphia, also praised the recognition of Allen.
"When Richard Allen and his associates withdrew from St. George's Methodist Episcopal Church, here in Philadelphia, they began a movement of religious freedom which initiated and accelerated many other movements for freedom in all categories," Ingram said.