Year-end Review
2016 year in review for New Jersey
For New Jerseyans, the year 2016 will likely be remembered as a year of political setbacks, comebacks and big news. It was indeed the year of politics and more politics on all levels. In fact, what is a year-end review story if it doesn't include high and low points of political intrigue, controversy, scandal and perhaps some good news!
The rise and fall of Christie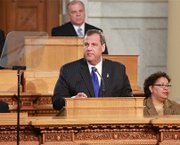 Despite repeated polls claiming that he was one of the Garden State's most unpopular and disliked governors in history, Chris Christie hoped to dismiss the brouhaha of Bridgegate fiasco by running for president earlier this year. However, when Bridgegate wouldn't go away and millions of Americans—including many from New Jersey-soundly rejected his run for the White House, the outspoken head of state quickly hitched his fading star to Republican presidential front runner, Donald Trump. The move, some political gurus called a huge faux pas, left the state with an absentee leader and angered New Jerseyans who accused him of putting his own political aspirations ahead of the needs of the state.
After a Hillary Clinton and Democratic bashing speech in July at the Republican National Convention (RNC), Christie was the perceived shoo-in for the running mate spot. However, the unpredictable Trump tapped Indiana governor Mike Pence as his veep.
Fast forward to early November and two of Christie's former top administrators are convicted of all counts in the Bridgegate scandal and face lengthy prison sentences for their role in the debacle. Despite his defense "that he knew nothing about the plan," the crisis forever tarnished the governor and was widely seen as the reason why Trump dismissed him as a running mate.
When Trump won the election, Christie was noticeably absent from preliminary key cabinet appointments such as Secretary of State, Chief of Staff and Attorney General. Despite some serious baggage—including a plunge in his popularity across the state to record low levels, including petitions calling for his impeachment; an acrimonious relationship with state educators; the state's lowered credit rating—10 times under the Christie administration, out of control property taxes; the consistent outflow of residents and the constant delay of the disbursement of federal and state relief funds for victims of Hurricane Sandy, to name a few. Political pundits contend the administration of Chris Christie will be forever tarnished when he leaves office next year, if not sooner if he is tapped for a role in the new administration of president-elect Donald Trump.
Craps for Atlantic City
The house lost and now big brother is in charge—at least for now. Atlantic City--the once unchallenged east coast gambling mecca crumbled like a house of cards as the Christie administration took control of the assets and most decision making power of Atlantic City in November. City administrators failed to devise a cogent plan to boost revenues and attract visitors to the seaside community.
In March, Gov. Chris Christie flatly rejected a request from AC mayor Don Guardian for an emergency loan of about $8.5 million to help keep the city afloat. Christie said, "I will not give Atlantic City more money, absolutely not, the credit card has been cut up and canceled." Despite receiving a much needed injection of cash this summer from the sale of several properties, the state Local Finance Board in November voted to take over the city's main governmental functions and rejected a proposed five year financial turnaround plan.