Nielsen executive shines spotlight on Millennials at Black Chamber of New Jersey event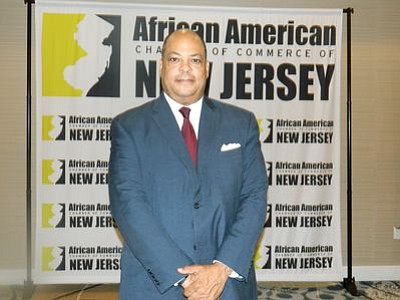 Dignitaries including a senior executive with the Nielsen Company, the global marketing research company, were among more than 125 people that attend the year-end holiday celebration by the African American Chamber of Commerce of New Jersey (AACCNJ) holiday reception in Plainsboro last week.
In a keynote address, Don Lowery, senior vice president of government affairs at Nielsen, presented the organization's annual report about trends in spending, buying and marketing among African American consumers. This year's report entitled, Young, Connected and Black, focused on how African American millennials are driving social change and leading digital advancement. Among other things, the comprehensive report highlighted how younger millennials are continuing to develop and expand their influence and social media savviness on mainstream America. Everyone is after the Millennial dollar. "Companies are making changes to reach out to this culture rich group with unique campaigns and products and services that meet their needs," Lowery said." He added, "Black millennials are indeed a target group for advertisers." These young consumers (69 million U.S. Adults between the ages of 18-34 comprise a generation that is technology savvy and knows what it wants. Additionally, African American millennials are more likely than adults past the age of 35 to like to stand out in a crowd and aren't shy about expressing their opinions about everything—even if it goes against the norm—or what is politically correct.
Lowery acknowledged that much of the research contained in the latest report was done prior to the inauguration of President-elect Donald Trump. Lowery said that some of the trends and findings will likely change—perhaps significantly when research data for next year's report begins in January. Nielsen has provided the annual report focused on African Americans media consumption and purchasing habits since 2011.
Lastly, AACCNJ CEO John Harmon said 2016 was a banner year for the Black Chamber and highlighted several key achievements--including spearheading the passage and/or review of three key pieces of legislation designed to enhance business opportunities for minority and women owned business enterprises across the state.
The enactments include, the Secure Choice Initiative; Senate Bill 1761 and Bill (S-123/A-3559). "All of your hard work and support has paid off and we will continue to move forward," Harmon said. "We still have a lot of work to do in order to make the playing field level for minority businesses in New Jersey and across the country."
Harmon said one of the first major events of 2017 will be the 7th Annual Circle of Achievement Awards Gala in February at the Mansion on Main Street in Voorhees, NJ. Gregory Calhoun, Founder & CEO of Calhoun Enterprises will be the keynote speaker. To register for the event, visit the AACCNJ web site at www.aaccnj.com.