Post-election: We must be vigilant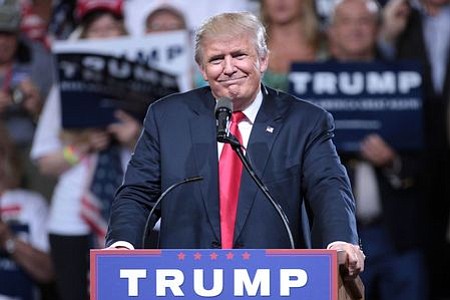 The American people wanted change.
They have been seeking change for years now.
The promise of "Hope and Change," took a one-term African American senator to the White House over an experienced establishment-backed former first lady and two-term senator.
Barack Obama beat Hillary Clinton in 2008 because he represented change. He won re-election in 2012 because of some change and were hoping for more in his second term.
Vermont Senator Bernie Sanders, a self-described Democratic Socialist ignited massive crowds, won many delegates and several states in the primary because he promised a "political revolution."
Businessman Donald J. Trump, someone that many Americans saw as unfit to be president, beat Hillary Clinton, a former secretary of state and senator, in the Electoral College in November because he represented change and challenged the political establishment.
Many of the same voters who voted for Obama in 2008 and 2012 voted for Trump because they did not believe enough had changed in their lives despite Obama's many political accomplishments. Many other disappointed voters simply stayed home.
American voters are similar to voters in Britain and other countries in western society where the dominant white working class majority fear loss of jobs and wages through technology and global trade and loss of position through immigration and diversity.
Populism and nationalism is on the rise. But populist movements can quickly become xenophobic and racists.
President-elect Trump tapped into this populist sentiment to win the White House.
Regardless of intent, Trump, with his divisive language about immigrants and Muslims, has given white supremacists new hope.
For the record Trump has denied any suggestions that he has connections to the so-called alt-right, a far right racist's movement.
In his acceptance speech, Trump urged Americans to "come together as one united people."
President Barack Obama and other political leaders have urged Americans to greet Trump with an open mind.

But Trump's appointments of Stephen K. Bannon chief strategist and senior counselor and Senator Jeff Sessions for attorney general are alarming.
Bannon has connections to the alt-right movement which promotes white nationalism. As chairman of Breitbart News, Bannon provided a platform to the alt-right's white supremacists ideology and anti-Semitic views.
Even some Republicans find the choice of naming Bannon to a top position in the incoming trump administration to be disturbing.
"The racist, fascist extreme right is represented footsteps from the Oval Office", said John Weaver, a Republican strategist who ran the presidential campaign of Gov. John R. Kasich of Ohio and previously advised Senator John McCain of Arizona. "Be very vigilant, America", Weaver warned.
Trump's appointment of Sessions is equally troubling.
The Senate Judiciary Committee heard testimony during hearings in 1986 in which Sessions, who had been nominated for a federal judgeship, was accused of making racists remarks and calling the NAACP and ACLU "un-American" and communist-inspired organizations.
Sessions was rejected by the Senate because of his poor record on civil rights as a U.S. attorney in Alabama and allegations of racism. Now Trump is seeking to make him the nation's top law enforcement officer.