Steve Harvey Returns to the Apollo for 'Showtime'
Stacy M. Brown (NNPA Newswire Contributor) | 12/6/2016, 7:25 p.m.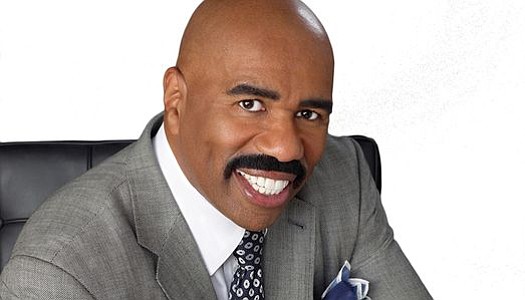 Steve Harvey has a lot on his plate these days.
The comedian, who is beloved by millions, has been busy preparing for the reboot of the classic "Showtime at the Apollo" talent contest that will air on Fox. The first episode of the reboot aired on Monday, December 5 at 8 p.m.
Harvey's schedule also includes the his popular syndicated morning radio show, hosting the "Family Feud" and "Little Big Shots," and recently cutting a new deal to produce a new daily and yet to be titled television show to be distributed by NBC Universal.
Working non-stop is just what the legendary King of Comedy prefers.
"Steve just keeps it real all of the time," his longtime friend and former Steve Harvey Show co-host Cedric the Entertainer said. "We've been friends a long time. We have a good time, all of the time."
Earlier this year, Harvey revealed in a candid interview with "People" magazine that, while he's amassed a fortune north of $100 million, he was once homeless and living out of his Ford Tempo.
"It kills me when I hear very successful people say, 'I always knew I would get here,'" Harvey said. "I didn't. I always hoped I would get somewhere, but this is above and beyond. My imagination didn't even go this big."
Last month, a "Los Angeles Times" feature on Harvey explored how the star has become the new "hardest working man in show business."
The newspaper noted what happened when the taping for "Steve Harvey's Funderdome," an upcoming "Shark Tank"-style ABC TV competition series in which two entrepreneurs vie for the approval of a live audience, had just completed.
As the crowd started to leave the Television City studio in Hollywood, Harvey, the host who has unofficially inherited the late James Brown's title of "the hardest working man in show business," made it clear he was not done with them yet.
The entertainer, who has become a one-man force of nature in the last 15 years with a seemingly endless cavalcade of successes in the pop culture arena ranging from radio and TV shows to books to film, wanted to follow the fun with his message of faith.
"If you think you can make it without God, your ass is trippin'," the sharply dressed entertainer with the thick mustache and shaved head declared. "I imagined, when I was 10 years old, that I would be on TV one day, and I believed in God and got successful. You've got to believe. Don't ever give up!"
Born in Welch, West Virginia on January 17, 1957, Harvey grew up in Cleveland and graduated from Glenville High School in 1974. A proud member of the Omega Psi Phi fraternity, the entertainer attended Kent State University and West Virginia University.
In his earlier life, Harvey worked as an auto mechanic, a carpet cleaner and for the United States Postal Service as a mail carrier.
Harvey began doing standup comedy in Cleveland in the late 1980s and, after becoming a finalist in the famed Johnnie Walker National Comedy Search in 1990, he was picked to host "It's Showtime at the Apollo."