25 Most Influential African Americans in New Jersey
This is South Jersey Journal's inaugural list of the "Most Influential African Americans in New Jersey." The individuals selected were chosen based on the number of people impacted by their work and size of their budgets. They represent the areas of politics, business, academia, social services, civil rights, nonprofits and faith based institutions. The following is a brief profile of these talented individuals and their contributions to New Jersey:
Nathaniel (Nat) Anderson, Mayor of Willingboro, NJ—In addition to being leader of one of Burlington County's most ethnically diverse communities, Mayor Anderson promotes ecological and corporate social responsibility. As a partner in an environmentally-conscious small business with the catchy name Nothing But Green Living Enterprises, Anderson combines a high-profile political career with the spirit of entrepreneurship.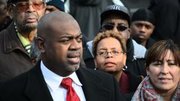 Ras Baraka, Mayor of Newark, NJ---A native Newarker who became leader of the Garden State's largest city in 2014, Baraka is both a politician and an educator. As the former principal of one of the Brick City's largest high schools, Baraka is a vocal advocate for educational accountability, social justice and community change in Newark and across the state.
Cory Booker, U.S. Senator NJ—With a social media presence that exceeds some celebrities, Booker, the former mayor of Newark, is involved in virtually every aspect of what affects the Garden State. An attorney, author and history-maker as just the fourth African American in the U.S. Senate since Reconstruction, Booker's political and social influence is pervasive.
Paulette Brown, President of the American Bar Association and Partner at Locke Lord LLP in Morristown, NJ—As the first African American woman and the third African American person to head the National Bar Association, the trajectory of Brown's career informs us that nothing is impossible. Outspoken, determined and focused, Brown is admired for her legal acumen and leadership skills.
Monique Chadband, President and Chief Executive Officer of United Way of Salem County-- If someone were to label Chadband as a consummate community activist, they'd be correct. Since joining the non-profit agency as executive director in 2012, Chadband plans, strategizes and implements progressive, grassroots initiatives to help residents help themselves.
Bonnie Watson-Coleman, Congresswoman (U.S. Representative NJ 12th District)--As the first African American woman in Congress from New Jersey, Watson-Coleman seldom backs down from intense discussions, especially when it comes to women's issues, systemic racism or ageism in the workplace. The Ewing Township politician has a track record of leading on issues and forging collaborations to foster positive change.
Paul Drayton, President of Rowan College in Burlington County—In his role as college president, Drayton oversees the bustling campus by being responsive to the needs of diverse students, while providing clear direction and careful guidance to manage multiple institutional aspects required as an administrator. The life-long Burlington County resident has a direct impact on shaping academic and other aspects of life for thousands of area students.
Brenda Ross-Dulan—Regional President of Wells Fargo and Company— Through banking, Ross-Dulan has been instrumental in helping to launch the dream of dozens of small business owners across the state, by being the go-to person for funding new and existing businesses. She subscribes to a glass-is-half-full philosophy that has guided decisions in her life as someone willing to take reasonable risks, a notion she implores many of her clients to embrace to achieve their goals and economic empowerment.