Simone Biles wins all-around Olympic gold
Maya Hughes | 8/12/2016, 7:11 a.m.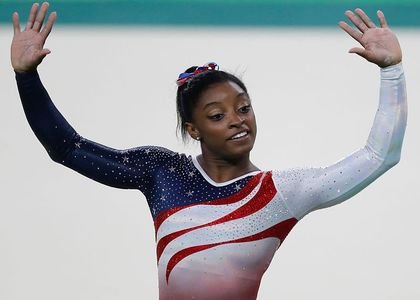 Simone Biles is continuing to make her imprint on the Olympic Games in Rio. After helping her team win gold in the team gymnastics competition Aug. 9, the 19-year-old earned a gold medal for herself Aug. 11 during the women's individual all-around competition with an overall score of 62.198.
Teammate Aly Raisman came in second place and Russia's Aliya Mustafina won bronze. It marks the first time since 2008 that Americans swept the top two spots in the event. Teammate Gabby Douglas won the title during the 2012 Olympic Games. Douglas was unable to defend her title in this year's Olympics due to a rule of only two athletes from each country can compete in the finals. Douglas came in third behind Biles and Raisman.
Biles is the second African-American woman in Olympic history to become the individual all-around champion behind Douglas. In 1996, Dominique Dawes won Olympic gold with the U.S. women's gymnastics team as well as an individual bronze medal—becoming the first African American to win an individual Olympic medal in women's gymnastics.
Biles has been the most dominant gymnast over the last few years. She has won four consecutive national championships and three consecutive world championships — the first female gymnast to ever do so. She has won 14 World Championships medals, 10 of which are gold, in just three years at the senior level — the last gymnast to come close to that won 10 medals over seven years. She has won the most gold worlds medals of any female gymnast in history.