25 Most Influential African Americans in New Jersey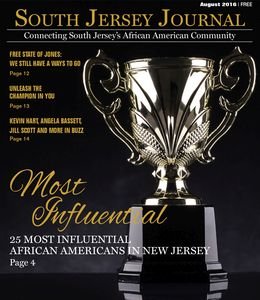 In the August issue of South Jersey Journal is the inaugural list of the Journal's "25 Most Influential African Americans in New Jersey."
The list is comprised of African American leaders who lead a wide range of businesses, institutions and organizations or represent a constituency.
This is in no way a complete list. We know we have only scratched the surface of the large number of African American leaders in our state. This is a small representative sampling of those elected officials, business leaders, clergy, nonprofit executives and others who toil every day to make life better in the Garden State.
Publishing our Most Influential list is in keeping with South Jersey Journal's mission since its founding in 2011 to "connect, inform and inspire," the African American community in southern New Jersey.
By recognizing the "Most Influential" we are highlighting a distinguished group of men and women who help to shape our community and state.
As a society we are experiencing great change in the workplace, in our politics and in our economy. During a time that many feel starved for good, effective leadership, we've found men and women who we hope will inspire you—some well-known, others little known, all of them helping their constituents, congregations, customers and clients in making New Jersey a better place to live.
We need transformative leaders such as these who can help us transition through these changing times with competence, courage, compassion and conviction.
We hope you will be informed and inspired by the many talented individuals you see listed here and that those listed will be inspired to keep up the good work.
Congratulations to all our honorees. We salute you and your achievements.
To read about the "25 Most Influential African Americans in New Jersey," pick up your free copy of South Jersey Journal in the free publication section at Wawa and select Rite Aid stores in South Jersey.
Irv Randolph is the editor, publisher and co-founder of South Jersey Journal. You can reach him on Twitter @IrvRandolph.