Former gang member now a gang peacemaker
Michael H. Cottman, Urban News Service | 4/18/2016, 11:33 a.m.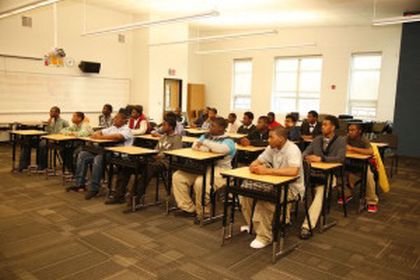 Ray Winans, once affectionately known as "Killer Ray," is helping reduce gun violence in Detroit — one gang member at a time.
The 37-year-old former gang member is an unconventional activist who mediates among gangs, police and federal prosecutors while encouraging young black men to end their lives of crime and hand their guns over to officials.
Winans explained he has attended too many funerals for young black men killed in violent confrontations. He has persuaded 10 young men to stop associating with Detroit's gangs since 2014, according to Winans and police.
"I never thought I would ever work with the police and it changed my whole view of law enforcement," he told Urban News Service. "Now I'm working with friends in gangs and their children in gangs."
A former member of the Head Banger Bloods, Winans and his wife, Shaelon, co-founded Keeping Them Alive in 2012. This non-profit agency is dedicated to ending gun violence in Detroit.
Winans runs his initiative on a modest budget through donations, his own money and a $10,000 grant he received in 2013 from the Knight Foundation's Black Male Engagement project.
Winans faces tough odds in his quest: Homicide is the leading cause of death among American black men between the ages of 15 and 34, the Centers for Disease Control reports. And only 50 percent of black youth feel confident they will live to age 35, according to the American Sociological Association and the Journal of Health and Social Behavior.
The challenge, Winans said, can be summed up in one word: Trust. Gang members can relate to him because of his own violent past.
When he was 15, Winans was convicted of manslaughter following a fit of anger in Detroit, according to both him and police. Winans said he was charged as a juvenile and served three years in jail for beating Chester Bownes to death with a hammer. Winans said he was freed at age 18 from High Plains Youth Center in Brush, Colorado.
(Winans' juvenile court records are sealed, a police source said, so he could not identify the victim nor confirm the spelling of his name.)
After his release, Winans was in and out of jail until 2009. But six years ago, his life changed.
"I told God, 'I am willing to get a job and not hurt anybody anymore,'" he said. "In 2010, I gave my life to Christ and started working in a local grocery store. The news spread like wildfire and gang members were coming to the store to see for themselves."
Today, the father of five tries to quiet Detroit's guns. There were 295 homicides in 2015 and 1,035 non-fatal shootings in Michigan's largest city, according to police data. Detroit is America's most dangerous city, according to FBI crime statistics for 2015.
Winans' partnership with Detroit police is a "highly unusual relationship, but very effective," said Sgt. Edward Brannock, head of the department's gang intelligence unit.
Winans joined Brannock recently to teach community mediation and gang intervention to 25 Detroit police officers, community outreach workers and the department's chaplain.