Eve opens up about 'Barbershop 3,' new music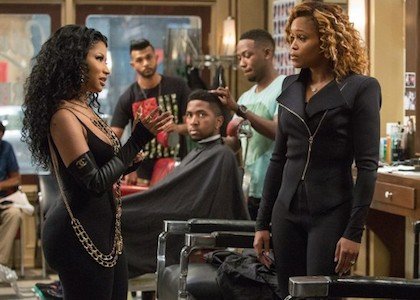 It has been a minute since hip-hop fans have heard from Philly rapper/actress Eve.
The former first lady of Ruff Ryder will reprise her role as fiesty hair stylist Terri Jones in
"Barbershop 3: The Next Cut" along with other hip-hop heavyweights, including Ice Cube, Common and Nicki Minaj, as well as Cedric The Entertainer, Regina Hall and Anthony Anderson.
Eve last appeared on the small screen in the 2015 Lifetime movie, "With This Ring," but she has not released new music since 2013's "Lip Lock."
When asked which art form she preferred more, the Grammy winner said she loves them both.
"I feel blessed and happy that I don't have to choose because each one makes me appreciate the other," she told The Source. "Doing this movie last year actually inspired me to wanna write and get back to the music again. Just being around Common and Nicki and talking to people it was
like, 'wow, I need to get back to it and I'm ready to get back to it.' That makes me appreciate my music and, like I said, I feel happy that I'm able to dip in and out of both."
With two hip-hop divas sharing the screen, you may expect sparks to fly, but Eve said she celebrates all women. "There's so many different types of women that it can't just be one female voice speaking for
the masses [in hip-hop]. I mean, there's so many other male voices out there so, I just think there needs to be a bit more diversity speaking for groups of women all over."
So don't expect any "beef" between her and Minaj, either on screen or off.
"It's like, why can't we come together? Even in the movie, I think it was a big deal for me and Nicki's characters not to have any type of like 'f*ck you' kind of thing where it ended in a drag out or anything like that," she told The Source. "It's like, why can't we show that we can go through something and talk it out as women? Why does it
always have to be some type of beef? When people see that that's what was done, it's gonna be a nice surprise."
"Barber Shop 3: The Next Cut" opens Friday, April 14.
Follow me on Twitter @ShondaMcClain.