Nielsen releases new report on Black American consumers
Freddie Allen, NNPA Senior Washington Correspondent | 9/21/2015, 1:54 p.m.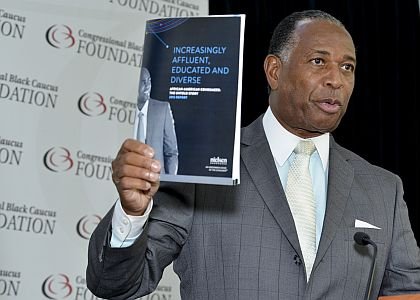 WASHINGTON (NNPA) – Acquanetta Pierce Glass, president and CEO of Avance Communications in Detroit, Mich., used last year's Nielsen report on Black consumers to convince one of her clients to run a 15-second trailer in movie theaters during the holiday season.
The Nielsen Company's credibility in the data and research space helped to convince her client to launch the campaign, which was a phenomenal success, Glass said.
The Nielsen Company partnered with the National Newspaper Publishers' Association (NNPA), a trade group that represents more than 200 Black newspapers in the United States, to help distribute the annual study on Black consumers.
According to the 2015 report, Black consumer spending on watching movies and playing video games entertainment topped the total population.
"The mean number of annual African-American movie ticket purchases is about 19% higher at 3.7 versus 3.1 for non-Hispanic Whites. Video/PC game store purchases are 71% higher and amusement park purchases are 25% higher than non-Hispanic Whites as well," the 2015 report said. "As the number of higher-income Black consumers continue to grow, purchasing rates will follow suit."
Glass hopes to be able to pull those same nuggets of information from the 2015 report to gain an edge on her competitors and to keep her clients informed on the latest data.
"We're living in a cluttered society and with all of the communication that we have and if this report gives [your business] an advantage to break through that clutter," you have to take it, said Glass.
This year's report focuses on the untold success stories in the Black community that are often missed by mainstream media.
The report said that Black households experienced the largest increase in the number of households earning more than $200,000, almost doubling the increase experienced by the total population over that same time period.
In the years from 2005- 2013, the income bracket with the largest increase for Black households occurred in the number of households earning over $200,000, with an increase of 138%, compared to an increase of 74% for the total population, the report said.
Rev. Jacques DeGraff, a social justice activist, founder of the Eagle Academy for Young Men in Bronx, N.Y. and co-chair of Nielsen's African American Consumer Advisory Council, called the report required reading for anyone who calls themselves a leader or a voice in the Black community.
"We're not all teenagers throwing rocks at CVS," said DeGraff. "Some of us have careers and businesses mortgages and organizations that are built on success. We're part of the American landscape."
Denise Rolark Barnes, chairperson of the NNPA, said that the report shows the value of the Black dollar.
"This report definitely sets the record straight and we've got to use this like a drum and pound on this thing in every jurisdiction across the country in every city to make sure that people understand our value," said Barnes.
Cheryl Pearson-McNeil, senior vice president of U.S. Strategic Alliances and Community Engagement at Nielsen, said that the report tells a different story than the stereotypes regurgitated about the Black community in mainstream media, including hard luck, rising crime rates, mass incarceration and high unemployment.