Learning through loss to beat the odds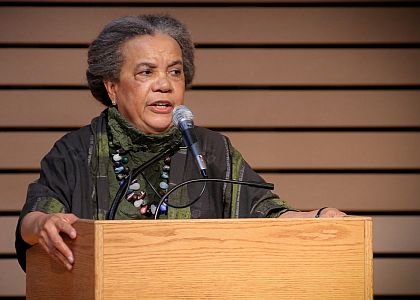 "Suffering is inevitable, but how you deal with it is not fixed in stone. That can change. You can develop a way to face it."
You might expect wise words like these to come after a lifetime's worth of experiences, but Elijah Iqbal-Scott has seen a lot of sadness and sorrow in his 17 years. When Elijah was born his mother, a young college student, was chronically ill with sickle cell anemia. "I don't really have too many memories of her outside of her being sick . . . One time when I was little, I think we had driven by the hospital and I said something like, 'Oh, look. It's Mommy's second home.'" Though she was in and out of the hospital and frequently unable to take care of Elijah, he knew she loved him and he had the benefit of being surrounded by her close-knit family. "When I was little, there were six of us, myself included: my grandmother, grandpa, my mom, my Auntie Gladys, my Uncle Herbert . . . We were definitely happy most of the time, and I remember, especially with my uncle, he was always kind of like an older brother to me." Elijah's grandparents were immigrants from Sierra Leone, and their full Maryland home was a warm haven.
But then the family losses began. When Elijah was seven his mother died. His grandmother remembers how the family tried to encircle him even more closely: "When his mom passed away, my son was like a father figure, played with him like big brother-type. My husband was also like a father figure, and Gladys, like a mother. We chipped in to raise him." For Elijah the time with his uncle was especially important: "We would just do regular things, you know, play video games together and eat pizza . . . I do remember having more good feelings and good memories than bad, and he was definitely a part of that." But before Elijah entered middle school his beloved uncle suffered a brain hemorrhage and was in a coma for 10 months before passing away at age 22. When Elijah was a freshman in high school, his grandfather—who he thought of as the "village elder"—died suddenly too: "It was like the oldest tree in the world was cut down when he passed away."
These losses might have been unbearable for many children and his grandmother remembers her fears. "There was a time when I was worried that by the time he got to the teenage years it might begin to manifest [as] anger—and there was nothing like that." She adds: "This young man, you cannot understand his tenacity. He doesn't let any obstacles keep him down."
Elijah says he learned from all his losses how to keep moving forward. Throughout it all, the honors student never stopped excelling in school. He is one of the five inspiring high school seniors the Children's Defense Fund will honor at its 25th annual Beat the Odds® celebration in Washington, D.C., November 5. Each will receive a $10,000 college scholarship, a computer, guidance through the college admissions process, and an invitation to join CDF's servant leadership training programs.