Philadelphia Mayor-elect Jim Kenney announces transition team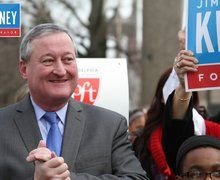 Philadelphia Mayor-elect Jim Kenney announced last week the members of his transition team.
Kenney, a former Democratic City Councilman, made the announcement days after a landslide victory over Republican opponent Melissa Murray Bailey.
The announcement included a broad and diverse line-up of more than 100 leaders including State Rep. Dwight Evans, a longtime African American legislator, and Alba Martinez, a Latina former president and CEO of the United Way of Southeastern Pennsylvania, who will serve as co-chairs.
The Kenney campaign stated in an announcement released last week, "The Kenney Transition Committee is focused on ensuring objectivity, community involvement, diversity and excellence as we form the Kenney Administration," said the press release. "The Transition Committee will collect ideas from every neighborhood to ensure the Kenney Administration priorities can become a reality."
The following is a list of members of the Kenney Transition Committee:

Transition Committee Leadership
Rep. Dwight Evans, Transition Committee Co-Chair
Alba Martinez, Transition Committee Co-Chair
Jessie Bradley, Transition Director
Steering Committee
Estelle Richman
Greg Rost
Joseph Martz
Judee Von Seldeneck
Ken Trujillo
Pastor James Hall
Pat Eiding
Rodney Muhammad
Education
Anne Gemmell, Co-Chair
Otis Hackney, Co-Chair
Harriet Dichter
Hillary Linardopolous
Jurate Krokys
Natalie Catin-St. Louis
Quibila Divine
Rhonda Lauer
Sharon Easterling
Sharon Nielson
Susan Gobreski
Dr. Fran Newberg
Commerce and Economic Development
Nina Ahmad, Co-Chair
Tara Chupka, Co-Chair
Andy Toy
Anthony Gallagher
Anuj Gupta
Della Clark
James Cuorato
Julia Meyers
Laurie Kavulich
Paul Levy
Renee Gillinger
Ryan Boyer
Shalimar Thomas
Stephen Tang
Steven Bradley
Varsovia Fernandez
Marcus Iannozzi
Public Safety
Dr. Branville Bard, Co-Chair
Maureen Rush, Co-Chair
Joanne Epps, Co-Chair
Alison Sprague
Bill Bergman
Bill Peebles
Bob Ballentine
Bryan Lentz
David Rudovsky
Dorothy Johnson Speight
Ed Marks
Ellen Kaplan
Emily Bittenbender
Erika Almiron
James Dollard
Joseph Evers
Paul Messing
Pedro Ramos
Reuben Jones
Sara Jacobson
Tom Nestel
City Administrative Services
Cynthia Figueroa, Co-Chair
Mike Nadol, Co-Chair
Nolan Atkinson, Co-Chair
Pedro Rodriguez , Co-Chair
Brigitte Daniel
Charles Gibbs
Clay Armbister
Craig R. Carnaroli
Dean Kaplan
James Muller
Jocelyn Hill
Joyce Wilkerson
Judge Ida Chen
Lauren Vidas
Lou Rulli
Lynda Orfanelli
Mike Marsico
Nancy Kammerdeiner
Stewart Weintraub
Tim Thornton
Community, Culture, and Recreation
Beth Devine, Co-Chair
Julie Hawkins, Co-Chair
Nicole Allen White, Co-Chair
Anne O'Callahan
Carmen Febo
Carol Lawrence
Gail Harrity
Janet Haas
John Chin
Lou Borda
Vik Dewan
Environment and Sustainability
David Masur, Chair
Chris Lewis
Dianne Herrin
Dr. Poune Saberi
E. Mitchell Swann
Emily Schapira
Jamie Gauthier
Kenneth Lande
Liz Robinson
Maitreyi Roy
Matthew Stepp
Maura McCarthy
Housing, Planning, and Development
Anne Fadullin, Co-Chair
Beth McConnell, Co-Chair
Andy Rachlin
Charles Lomax
Gaetano Picarelli
Jerry Sweeney
Herb Wetzel
Kelly Ganczarz
Kimberly Lloyd
Maisha Jackson
Maria Gonzalez
Rich DeMarco
Rick Sauer
Wadud Ahmad
Human Services
Donna Cooper, Co-Chair
Marla Gold, Co-Chair
Roberta Trombetta, Co-Chair
Bonnie Carmada
Jane Shull
Joanna Otero Cruz
John Lynch
Karin Annerhed-Harris
Natalie Levkovich
Nilda Ruiz
Numa St. Louis
Richard Cohen
Sandy Sheller
Sister Mary Scullion
Susan Kretsge
Immigrant and Multicultural Affairs
Marwan Kreidie, Co-Chair
Peter Gonzales, Co-Chair
Brad Baldia
Cathryn Miller-Wilson
Christian Dunbar
Christopher Chaplin
Diego Tapia
Jasmine Rivera
Judith Bernstein-Baker
Kay Kyungsun Yu
LeQuyen Vu
Margaret O'Sullivan
Rev. Adan Mairena
Rich Gitlen
Rob Buscher
Sokmala Chy
Sundrop Carter
Thoai Nguyen
Voffee Jabateh
Will Gonzalez
Yocasta Lora
Jim Duran
Infrastructure and Transportation
Joseph Syrnick, Co-Chair
Matthew Tharakan, Co-Chair
Anita Davidson
Beverly Coleman
Fran Kelley
Joseph Casey
Lou Rodriguez
Mike Liberi
Rhett Workman
Sarah Clarke Stuart
DNC Preparation
Julie Coker Graham, Chair
Jeff Guaracino
John McNichol
Michael Barnes
Michael Pearson
Sara Lomax Reese