Jim Kenney wins Democratic nomination for Philadelphia mayor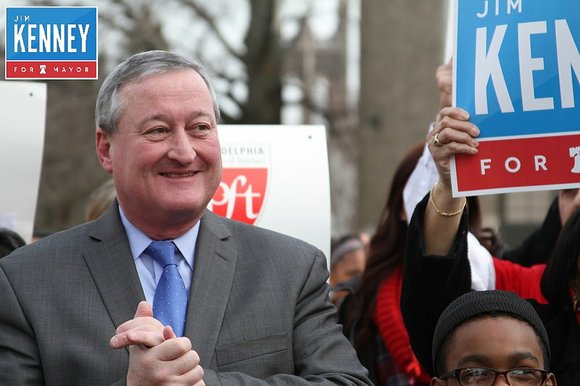 James Frances Kenney won the Democratic nomination for mayor of Philadelphia Tuesday.
Kenney beat State Sen. Anthony Hardy Williams, former District Attorney Lynne Abraham and three other candidates in the primary.
Kenny, 57, will now face a little known Republican businesswoman Melissa Murray Bailey, 36, in November to succeed Mayor Michael A. Nutter.
In the heavily Democratic city, the win almost guarantees that Kenney will become the next mayor of Philadelphia. Democrats outnumber Republicans by a roughly 7-to-1 ratio in the city.
On February 4, 2015, Kenney announced his candidacy for mayor.
Kenney has held one of the Council's At-Large seats since the 1991 election, when he succeeded George Burrell, who resigned from Council to mount an ultimately unsuccessful bid for mayor.
Kenney formerly served as Chairman of the Council Committee on Labor and Civil Service. He was also Vice-Chairman of the Committee on Rules, Committee on the Environment, and Committee on Law and Government, and is a member of the Committee on Public Safety, Technology and Information Services, Public Property and Public Works, Fiscal Stability and Intergovernmental Cooperation, Public Health and Human Services, and the Legislative Oversight Committee.
In City Council, Kenney advocated fighting for a living wage, increased funding for public education, and immigrant rights.
Kenney began his political career with State Sen. Vince Fumo.
He was elected and re-elected to Council largely on the strength of Fumo's political clout, but he broke with the senator in the mid-2000's, when Fumo was the target of an FBI corruption probe that eventually sent him to prison.
In the primary, Kenney received a powerful boost from Philadelphia union leaders, particularly from Local 98 of the International Brotherhood of Electrical Workers.