Obama: It's Time to Confirm Loretta Lynch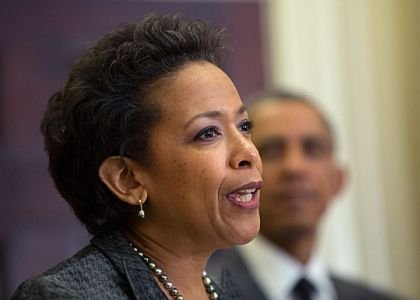 In his weekly address Saturday, President Barack Obama called on Republicans in Congress to stop playing politics with law enforcement and national security and confirm Loretta Lynch as Attorney General of the United States.
Obama said Lynch is an independent, career prosecutor who deserves to be confirmed as soon as possible. She has proven herself time and again throughout her 30-year career, yet on Monday, the amount of time her nomination will have languished on the floor of the Senate will total more than that of the past seven Attorney General nominees combined.

In his address, Obama asked Republicans in Congress to stop denying a vote on the nomination of Lynch and end the longest confirmation process for an Attorney General in three decades.
Lynch would replace Eric Holder, the first African American head of the Justice Department, who is retiring.
If confirmed by full Senate, Lynch would become the nation's first African American female attorney general.
Lynch, 55, is the U.S. attorney for Eastern New York, which covers Brooklyn, Queens, Staten Island and Long Island, a position she also held under President Bill Clinton.
Born in Greensboro, N.C., Lynch earned undergraduate and law degrees from Harvard University. She first rose to prominence for her work prosecuting members of the New York City Police Department for the 1997 case in which a Haitian immigrant, Abner Louima, was beaten and sexually assaulted with a broom handle. The case became a national symbol of police brutality and was fraught with racial sensitivities, as it involved white police officers accused of assaulting a black man
She's overseen bank fraud and other public corruption cases. She also charged reputed mobster Vincent Asaro and his associates for the 36-year-old heist of $6 million in cash and jewelry from a Lufthansa Airlines vault at Kennedy Airport, dramatized in the blockbuster movie "Goodfellas."