Exhibit examines history of local African American Muslims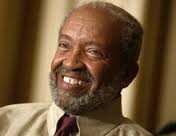 The African American Heritage Museum of Southern New Jersey will present Mosque No. 10, an exhibit that examines the history of Islam and the Muslims of the African American community in Atlantic City. The exhibit will be on view from April 1 to May 1, 2015 in the Museum at the Noyes Arts Garage. A reception will be held on Friday, April 10 from 5-8 PM at the Museum in the Arts Garage at 2200 Fairmount Avenue, Atlantic City.
Atlantic City's temple was the tenth in a nationwide system of Mosques established under Elijah Muhammad. The exhibit, curated by Dr. Richland Goddard and her research team, explores the Nation of Islam under the leadership of Imam Warith Deen Mohammed, the son of Elijah Muhammad, and focuses on the Islamic religious community it fostered in the African American community of Atlantic City. It examines the themes of unity, self-help, family, community and business development that shaped the Islamic movement in America and will be on view as photographs, recordings and historic memorabilia. Visitors will leave with a better understanding of the influence of Islam in Atlantic City and of the Islamic communities that are a large part of our culture today.
Source: African American Heritage Museum of Southern New Jersey