Rihanna makes history as first Black face of Dior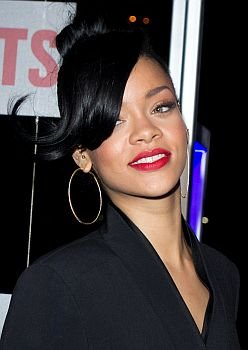 Rihanna is having a good year.
It is only March, but the Barbados-born beauty has won a Grammy for "The Monster," her collaboration with rapper Eminem, continued her red carpet domination with a surprisingly demure pink confection created by Giambattista Valli - the antithesis to her bad girl image - and she is starring in the DreamWorks animated film, "Home," with Steve Martin, which opens March 27.
During a recent appearance on "Good Morning America," she said her character, Tip, is a bit like her, "A little sweet, a little innocent, but she is sassy and she is vibrant, and that's what I think really connects with the fans. They kinda identify with her. They feel like they recognize her. She's a little familiar and even the accent comes out a lot of the time as well."
But, the one thing Tip does not have is Rihanna's fashion sense. The "FourFiveSeconds" singer's edgy style has won her numerous best-dressed accolades and made her a fashion industry darling. And this week, she made fashion history when she was tapped to become the first Black woman to represent the renowned French house of Dior, which was established in 1946.
Following in the footsteps of Charlize Theron and Jennifer Lawrence, Rihanna will appear in Dior's fourth installment of its "Secret Garden" series, shot at the Palace of Versailles in France, as well as a print campaign.
But, this is not her first foray into the rarefied air of high fashion. The 27 year old has already appeared in a campaign for Balmain and was recently named a creative director at Puma.
This will all make good fodder for a new documentary chronicling Rihanna's rise to fame, made by Peter Berg, who directed the singer in her big screen debut, "Battleship." The film has yet to be named.
Follow me on Twitter @ShondaMcClain.