Chip Kelly shakes up Eagles roster
Maya Hughes | 3/16/2015, 12:11 p.m.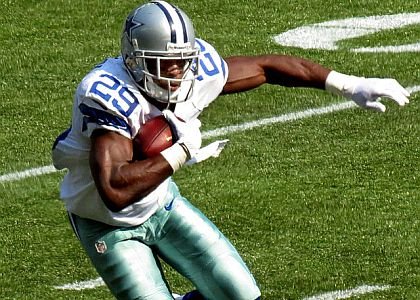 The NFL free-agency jamboree officially began March 10, and already Chip Kelly has made one thing clear: There was something about his Eagles last season that he just did not like.
Though the Birds played the end of the season with their No. 2 quarterback, and though their 10-6 record would have been good for the playoffs most years, and though they were not particularly dysfunctional, and though they were mostly popular, Kelly was determined to make changes, even if it was just to make changes.
Here is a recap of all the trades and deals that Eagles has done within the first week of free agency:
LeSean McCoy traded for Kiko Alonso
Kelly traded the Eagles' all-time leading rusher, 26-year-old LeSean McCoy for the ascending 24-year-old Bills linebacker in Kiko Alonso. Kelly later noted money as the main reason for the trade. McCoy's cap hit was (2015, 2016, 2017) | $11.95 million, $8.85 million, and $7.85 million. Alonso's cap hit is, per spotrac.com (2015, 2016, UFA) | $795,946 and $991,418. The Eagles saved about $11 million in cap space for this season, upping their cap space to around $57 million.
Eagles trade Nick Foles, a 2015 fourth-round pick, and a 2016 second-round pick for Sam Bradford and a 2015 fifth-round pick
This was by far Kelly's most controversial move, and arguably, the only one that could be criticized. Bradford, 27,—a former No.1 overall pick—is coming off of two ACL injuries, having only played seven games in the last two seasons. Bradford's 2015 cap hit is $12.985 million, but the Eagles are reportedly trying to restructure his deal. Foles, 26, has a 2015 cap hit of just $1.362 million. This put the Eagles cap number back to around $46 million.
Eagles sign Byron Maxwell
The Eagles signed former Seahawks corner Maxwell, 27, to a six-year deal worth $63 million ($25.5 million guaranteed). The way his contract is structured, per spotrac.com, allows the Eagles to easily release him after 2017, if desired, saving themselves $8.8 million in cap space.
Maxwell's 2015 cap hit is reportedly $8.7 million, bringing their total number to approximately $37 million.
Eagles let Maclin go to KC
Maclin signed a five-year deal worth $55 million, with $22.5 million guaranteed. Maclin said it was between the Chiefs and the Eagles and Kelly admitted he wanted Maclin back. Maclin chose the Chiefs. The Eagles are thin at wide receiver now, with Jordan Mathews, Riley Cooper, and Josh Huff at the top of the depth chart.
Eagles sign Ryan Mathews and DeMarco Murray
Talk about replacing McCoy. The Eagles loaded up their backfield, which now features Darren Sproles, Mathews, and Murray—the NFL's reigning rushing champ and former Dallas Cowboy.
Mathews signed a three-year deal worth $11.5 million. Murray signed a five-year deal worth $42 million ($21 million guaranteed). Reportedly Mathews' cap hit is $2 million, Murray's $5 million in 2015. That brings the Eagles' cap number to around $30 million.
Eagles sign Walter Thurmond III
Thurmond, a 27-year-old cornerback with injury concerns, signed a one-year worth $3.25 million. A risk-free deal for the Eagles. Their cap total is now roughly $27 million, if you're still following along.
Eagles re-sign Brandon Graham and Mark Sanchez
The Eagles needed Graham back after releasing outside linebacker Trent Cole. Graham's contract is four-years, $26 million ($14 million guaranteed). Graham has a $6 million cap hit this year. The Eagles re-signed backup QB, Sanchez, to a two-year deal worth $9 million, $5.5 million guaranteed. Sanchez's 2015 cap-hit is $3.5 million.
Evan Mathis trade on the horizon?
The Eagles are reportedly shopping Mathis, one of the league's best guards. Mathis, 33, has a 2015 cap hit of $6.5 million and a 2016 cap hit of $7 million.