Maya Angelou postage stamp unveiled
Richard Randolph, South Jersey Journal | 3/15/2015, 7:55 p.m.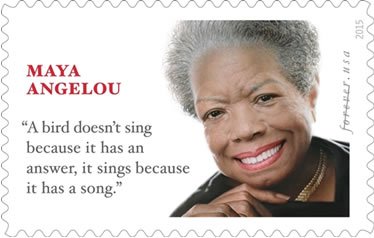 The U.S. Postal Service has honored the late prolific African American author, poet and civil rights activist, Maya Angelou with a postage stamp. Angelou (1928-2014) had been a dynamic voice throughout her extensive career which spanned over 50 years. An impressive presence in both America and Africa places her at the forefront of cultural icons.
A multitude of Angelou's contributions to written and spoken word have awarded her dozens of honorary degrees as well as several accolades which include; a Pulitzer Prize nomination, three Grammys, and The National Medal of Arts. One of her most notable works, I Know Why the Caged Bird Sings has received critical acclaim from literary organizations and government agencies alike. Angelou recited a poem at President Clinton's inaugural address in 1993, and was presented the Presidential Medal of Freedom by President Obama in 2011.
Now the Maya Angelou Forever Stamp will immortalize the author's legacy which continues to heavily influence fans worldwide. The stamp will be released in April. Featured on the stamp is a quotation by Angelou, "A bird doesn't sing because it has an answer, it sings because it has a song."