My Brother's Keeper: A Year Later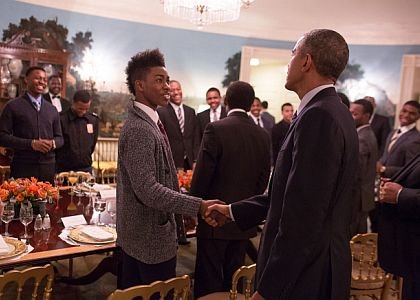 On the first anniversary of the My Brother's Keeper initiative, President Barack Obama recently met with mentees in the Diplomatic Reception Room of the White House.
President Obama established My Brother's Keeper (MBK) to help close the opportunity gaps faced by many young people across the country, and by boys and young men of color in particular. At the initiative's launch, he called for government, businesses, nonprofits, local education agencies, and individuals to step up and do their part to ensure all of the nation's youth have the tools they need to succeed.
"Helping more of our young people stay on track. Providing the support they need to think more broadly about their future. Building on what works, when it works, in those critical life-changing moments," said Obama, a year ago about the My Brother's Keeper initiative when it first launched.
More than 60 superintendents of our country's largest urban school districts have pledged to develop new strategies to help meet the objectives of My Brother's Keeper. And nearly 200 mayors, tribal leaders, and county executives — from 43 states and Washington, D.C. — have accepted the MBK Community Challenge and committed to improve life outcomes for young people at the local level.