Two Rutgers-Camden students named McNair Scholars
Tom McLaughlin | 6/8/2015, 11:20 a.m.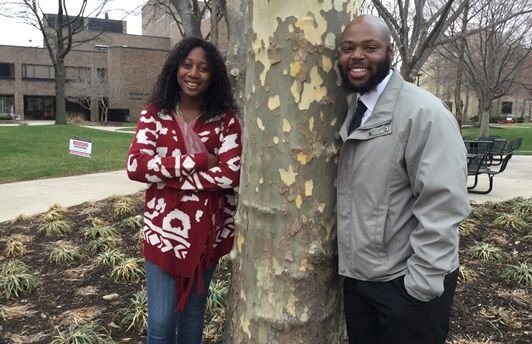 After attending the research institute, the McNair scholars will continue to enjoy a variety of specialized services, including individual academic advising; additional funding, fellowship, and scholarship opportunities; and invitations to attend cultural events and excursions. They will also receive writing and tutoring support, presentation and public-speaking training, and assistance applying to graduate school.
Waggeh affirms that, in addition to rigorous research and training, the McNair program will be a test of their resilience. "It's going to be intense, so you have to be able to stand the heat," says Waggeh, whose career goal is to be an elementary- or middle-school English teacher.
Rest assured, however, the Rutgers–Camden students have never run from a challenge yet. Born and raised in East Orange, Waggeh recalls struggling with a speech impediment and behavioral issues, before heeding the advice of her father and focusing on her schoolwork. She soon developed a passion for reading and was encouraged to explore her talents and interests by teachers who made learning fun – a lesson that she continues to carry to this day.
"My teachers made me so happy about English that I want to be the same kind of teacher to others as they were to me," says Waggeh, a Rutgers–Camden Civic Scholar. "I also want students to know that they can make it. They might come from a similar background or are dealing with similar challenges as I did, but as long as they try, they will persevere."
For Pratt, he recalls that growing up in Camden wasn't always the ideal place to learn. Some teachers, he says, were more interested in "minimizing the violence," rather than helping students prosper in the classroom. However, he says, he too benefited from a positive, guiding influence, recalling that his science teacher at Cooper B. Hatch Family School helped him to discover his passion for computers and technology.
"He would bring me to the computer lab, where I learned how computers worked," says Pratt. "That love of science has grown with me to this day."
Upon graduating from Camden High School, Pratt pursued a bachelor's degree in engineering at Bloomfield College. He then focused his interests on contemporary and digital arts, studying at Essex County College and Camden County College, before enrolling at Rutgers–Camden in fall 2014.
In addition to his studies, Pratt has been an active volunteer on campus and in the surrounding community. At Rutgers–Camden, he is an Education Ambassador with the Office of Civic Engagement, helping to design and implement leadership and development workshops, and a member of the Office of Housing and Residence Life's Green Team. He also serves on the Camden City Mayors Youth Council, a group dedicated to the improvement of youth services in the city.
Pratt now plans to combine his interests in digital arts, community service, and environment studies to redesign living, working, and learning spaces to have greater sustainability.
Source: Rutgers-Camden News Now