Two Rutgers-Camden students named McNair Scholars
Tom McLaughlin | 6/8/2015, 11:20 a.m.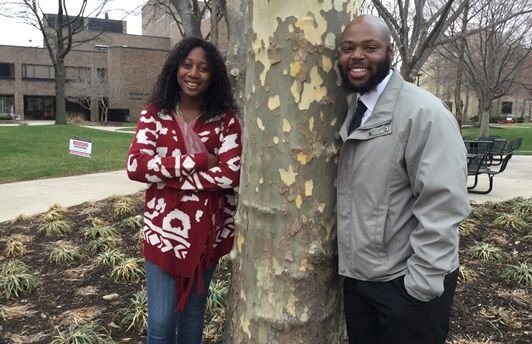 Growing up in the inner city, Nyuma Waggeh and Kadeem Pratt acknowledge there were many times that it would have been much easier to give up than to pursue a higher education.
"We've both been able to overcome the odds and obstacles," says Waggeh, an East Orange resident and sophomore English and psychology major with a minor in political science at Rutgers University–Camden.
However, Pratt is quick to note, he and his counterpart aren't inspired by visions of their own success, but rather the thoughts of being in a position to help others who are less fortunate – others who are just like they were – achieve their goals.
"I realize that it's bigger than me," says Pratt, a Camden resident and sophomore art major with a minor in Africana Studies at Rutgers–Camden. "Since I was a child, I've believed that I can make an impact, and I am not going to stop until I do."
The Rutgers–Camden students will now take a giant leap on their respective journeys, as they have been named scholars in the Ronald E. McNair Post baccalaureate Achievement Program. The highly competitive program, named for the late physicist McNair, the second African American astronaut in space and one of seven crew members to die in the Space Shuttle Challenger explosion, provides a supportive environment and the resources to assist and prepare students interested in pursuing a doctorate education. To be eligible, students must be a sophomore or junior; a low-income, first-generation college student or represent a group that has been historically underrepresented in graduate education; and maintain a cumulative grade-point average of no less than 3.2.
Pamela Clark, director of TRiO Student Support Services at Rutgers–Camden, praises the students, whom she has assisted through her program, as already being inspirations to their peers.
"We are extremely proud of their accomplishments," says Clark. "It is my hope that other interested and eligible Rutgers–Camden students can see the possibility for themselves and aspire to this goal next year and in years to come."
The pair will now gain invaluable, hands-on research experience, as they join 19 other Rutgers students – representing all three campuses – at an eight-week summer research institute at Rutgers University–New Brunswick. Under the tutelage of faculty mentors, they will begin to develop the professional and academic skills necessary to become competitive applicants for graduate and doctoral programs.
The Rutgers–Camden students will focus their research on a self-designed project examining the effects of the environment on the performance and behaviors of students in urban communities. They plan to measure toxicity levels of lead and other known harmful chemicals in the soil, air, and water, and gauge various student-performance, motivation, and social-interaction indicators, in both urban and non-urban areas, and determine if a correlation exists.
"There is a lot of industrial activity in cities that can contribute to high levels of toxins, which have been shown to affect certain areas of the brain," explains Pratt, who plans to pursue a Ph.D. in environmental studies. "If we prove that these toxins are affecting students' performance, we can help find sustainable ways to reform education."