Black female golfer makes history
Zenitha Prince, Special to the NNPA from the Afro-American Newspaper | 7/27/2015, 11:13 a.m.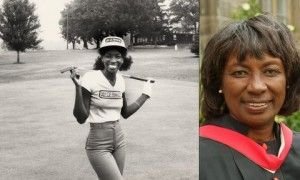 Renée Powell, a pioneering African-American golfer who often fielded racism during her years on the Ladies Professional Golf Association Tour, recently made history by becoming one of the first female members of the Royal & Ancient Golf Club of St. Andrews, which is considered the birthplace of the sport.
Last September, the R&A, which is based in Scotland, broke with 260 years of male exclusivity and decided to invite women to join. Powell, 69, was among the first seven women to be named honorary members.
"This is an historic day for the Club and we could not be more proud also to welcome women who have distinguished themselves in golf over many years and have been great players and champions," said R&A Captain George Macgregor. "They are extremely worthy additions to our roll of honorary members and will become ambassadors for the Club as they have been for the sport of golf throughout their careers."
Powell began her golfing career early, having been introduced to the sport by her father, William Powell, at the age of 3. Such was the elder Powell's dedication to the sport, that in 1948 he opened Clearview Golf Course, a 6,478-yard spread built from an old dairy farm in East Canton, Ohio. It was the first golf course to be designed, built, owned and operated by an African American, and is on the National Register of Historic Places.
By 12 years old, Renée Powell was playing competitively, and she also played college golf, first at Ohio University then at Ohio State, where she served as captain of the women's golf team, according to a PGA of America biography.
In 1976, Powell became the second African American to play on the LPGA Tour—after Althea Gibson who joined in 1964. She played in more than 250 professional events, winning once, in Brisbane, Australia, according to The New York Times. Her best finish on the Tour was a tie for fourth at the 1972 Lady Errol Classic.
Her accomplishments were made even more significant given the daunting challenges she faced on the Tour—signed death threats, being denied boarding at tournament hotels, admitted to restaurants through the back door or excluded from pro-ams (professional-amateur games) because nobody would play with her, all due to the color of her skin.
"I think back to the times that as a young Black girl playing golf, there were many places I could not play or unpleasant situations when I was finally allowed to play, and now I belong to the most exclusive private golf club in the world," Powell told the Times.
Since Powell left the LPGA in 1980, she has made significant contributions to the sport. Right after leaving professional golfing, she reached out to African embassies in the United States to launch her mission of spreading the gospel of golf to Africa. Upon returning to the U.S. in 1988, she began working to build inner-city youth programs, eventually establishing the Renee Powell Youth Golf Camp Cadre Program in 1995 to provide urban youth with an opportunity to learn and play the game of golf. Powell also strived to build a network of celebrity and pro-am charity events, and to tour HBCUs, where she worked to draw more people of color to the game.