New Jerseyans still reeling post Sandy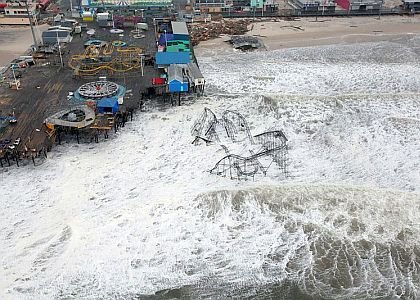 It's an anniversary few New Jerseyans are celebrating----it's been 1,000 days since Superstorm Sandy pummeled New Jersey.
On the lackluster occasion, Sens. Robert Menendez and Cory Booker, last week, announced a $20 million relief grant from the Office of Emergency Management to help homeowners and entrepreneurs still recovering from the massive storm. The grant comes on the heels of a new report released by the New Jersey Department of Housing and Urban Development, highlighting the fact that through June 2015 the Garden State has spent about $1.2 billion to repair, rehabilitate or rebuild property damaged by the storm.
Across the state, especially in central and south Jersey communities, construction equipment and work crews have become standard sights. For example, in the hard hit community of Union Beach, more than 300 homes have already been leveled, with at least 100 more slated to be demolished. Newly rebuilt homes have been designed with thick steel frames designed to withstand hurricane force winds.
On the 1000 day anniversary of the wrath of Sandy, one Jersey Shore business owner said, "A thousand days later, things are not back to normal yet. There is a lot progress, but things are still not complete."