Rowan speaker: Remember King's legacy in its entirety
Melissa DiPento | 1/20/2015, 11:09 a.m.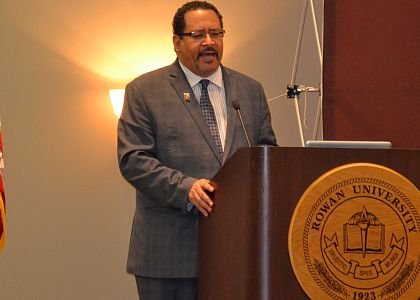 On Monday, Jan. 19, Michael Eric Dyson – a Georgetown University professor, pastor, an American Book Award recipient and a two-time NAACP Image Award winner – asked one simple question to hundreds of guests at Rowan University's Eynon Ballroom.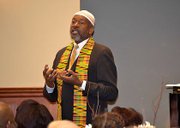 "What King will you choose?"
He challenged the audience present for the 29th annual Martin Luther King, Jr. Scholarship Breakfast to consider the difference between the whitewashed, glamorized version of King and the King who had a dream, who spoke out against Vietnam, who would not sit idly by when four young girls were blown up in the 16th Street Baptist Church in Birmingham in 1963.
Dyson spoke of King's unpopularity, and the many challenges that lay before him during his lifetime.
"This man who lived daily with the threat of death and, at 39, gave up the ghost," Dyson said. "Before that, he was extremely unpopular and now he has a holiday with his name and a country who murdered him."
Dyson brought the crowd to their feet many times throughout his hour-long remarks. He used humor and song to relate stories from the civil rights movement to issues of today using a litany of references to hip-hop and President Barack Obama.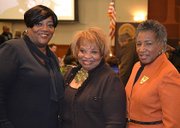 Dyson said he wishes Americans on the whole would understand that the famous "I have a Dream" speech is not the only thing King ever did.
"People act as if he only had one hit," Dyson said, before comedically welcoming quips about Luther Vandross' hit singles, Frank Sinatra's hits and Martin Luther's 95 theses, which he called "hits."
Dyson told the crowd later that the King they choose to follow will ultimately shape the future.
"He was a man who was deeply invested in telling the truth, even when it was uncomfortable," Dyson said.
Prior to Dyson's keynote address, Rowan president Dr. Ali A. Houshmand welcomed the attendees. Proceeds from the ticketed breakfast support student scholarships, he said. This year, 25 students received scholarships to attend Rowan, made possible by proceeds from last year's event and individual donations.
The alumni choir performed, as well as musicians Dr. Lourin Plant and Dr. Alexander Timofeev.
Rowan alumnus Lisa Williams said she comes to the event each year to support her alma mater. Recent previous speakers included Martin Luther King, III (2014), Danny Glover (2013), and Bill Cosby (2012).
"I support this every year. The speakers are phenomenal and the message is wonderful," Williams, of Willingboro, said.
The Rev. Dr. Natalie P. Alford, a senior pastor at Trinity AME Church in Middletown, Del., performed an invocation prior to Dyson's remarks. Being at the event was the right place for her to be on King's holiday, she said.
"We can remember the sacrifice MLK made. His legacy allowed us to come together for justice for all," Alford said.
Faye Reese-Clark of Gloucester Township said her reason for coming to the event was personal. She said she was part of the Civil Rights movement in the '60s as a college student in Columbus, Ga.
"Any time I get the opportunity to hear someone speak about Civil Rights, I'm there," she said.