Mitzi Miller steps down as editor of Ebony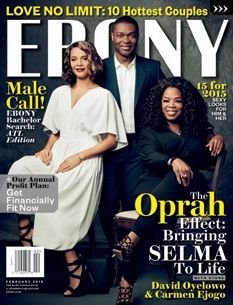 Johnson Publishing Company is undergoing some major changes.
Mitzi Miller announced Friday that she will be stepping down as editor-in-chief of Ebony magazine, the company's flagship publication. Miller, 39, replaced Amy DuBois Barnett as editor of the venerable magazine last April. Before that, she served as the editor of Ebony's sister publication, Jet, which ceased its print distribution in 2014 and is only available online. Before coming to Johnson Publishing, Miller worked at Jane, Set and Honey magazines.
Miller, co-author of the book, "The Vow," which spawned the successful Lifetime movie, "With This Ring," starring Eve and Regina Hall, plans to pursue a career in film and television writing.
"I've always subscribed to the principle of living in the present and remaining open to all of life's opportunities," Miller said in a statement. "So I believe that now is an exciting time to start a new chapter in my life."
Miller's departure comes at a pivotal time for Johnson Publishing, which is experiencing declining revenues, according the Chicago Tribune. Last year, Ebony reported an 8 percent drop.
Desiree Rogers, President Barack Obama's former social secretary, has been at the helm of the African-American-owned company since 2010. She, along with publisher Susan Johnson Rice, has had to make critical decisions to keep the magazine afloat. Last month, the company announced that it is selling its historic photo archives, valued at $40 million, in an effort to raise cash.
In the meantime, the publishing company said in a statement that it plans to add new editorial talent "to the publication as we develop new ways to increase the dominance of the magazine through digital, event activations and sponsorships."
Ebony was founded in 1945 and has a circulation of 1.26 million, according to the Alliance for Audited Media.
Follow me on Twitter @ShondaMcClain