Obama says military hitting ISIS harder than ever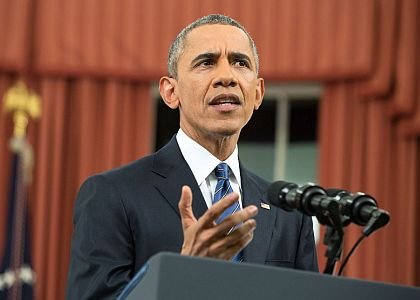 President Barack Obama says the U.S.-led coalition is making progress against Islamic State militants in both Iraq and Syria, as he delivered an update on the campaign aimed at reassuring Americans worried about the spread of extremism-fuel terrorism.
"We are hitting ISIL harder than ever," Obama said on Dec. 14, using the shorthand for the Islamic State group. Obama said airstrikes had increased and the coalition had successfully knocked out key figures in the group's leadership "one by one."
"The point is, ISIL leaders cannot hide and our next message to them is simple: 'You are next.'" Obama said.
Obama made the comments after meeting with his top national security advisers at the Pentagon, part of weeklong push to explain his strategy for stopping the Islamic State group abroad and its sympathizers at home.
The U.S. and its coalition partners have claimed progress recently in wresting back territory from IS and eliminating some of its key leaders in Syria and Iraq. Hundreds of U.S airstrikes in recent days dealt a major blow to IS ranks in the western Iraqi city of Ramadi, which IS seized in May, said military leaders.
Obama has insisted he won't send in major U.S. ground forces.
The Associated Press contributed to this report.