The Force is strong in John Boyega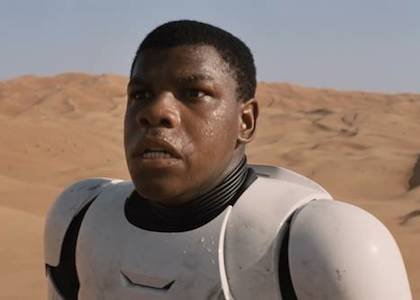 "Star Wars" newcomer John Boyega is poised for superstardom when "Stars Wars: The Force Awakens" opens Dec. 18. The British actor, with Nigerian roots, has a lead role as Finn, a stormtrooper who defects from The First Order and joins the Resistance in the seventh installment of the blockbuster franchise.
Boyega, 23, whom some may recall from his 2011 big screen debut, "Attack of the Block," where he helped defend his apartment building from an alien attack, created a quite a firestorm after his face appeared in the first trailer for the film. The hashtag #blackstormtrooper began trending on Twitter, but a few racist rants could not dampen the enthusiasm fans have for the film – advance ticket sales were massive.
"The 'Star Wars' fans, their reputation can't be ruined by a few individuals," Boyega told The Associated Press. "Let's just leave them on their island and go and enjoy a 'Star Wars' movie."
Because the "The Force Awakens" has been shrouded in secrecy, a lot is not known about Finn, but what we do know is he wields the lightsaber once owned by Luke and Anakin Skywalker and flies alongside Han Solo and Chewbacca in the Millennium Falcon.
Boyega said he can't wait for fans to see the new film and he hopes they will be as fascinated by Finn as he was when he first read the script.
"To go into the mind and the perspective of a stormtrooper, who's nothing more than a stormtrooper, is just very intelligent and it's an interesting way to kick off the new generation of these 'Star Wars' movies," Boyega told Screen Rant.
"Star Wars: The Force Awakens" is directed by J.J. Abrams and stars Harrison Ford, Mark Hamill, Carrie Fisher, Adam Driver, Daisy Ridley, Oscar Isaac and Lupita Nyong'o.
Follow me on Twitter @ShondaMcClain.