Christie bullies his way through first presidential debate
8/19/2015, 11:28 a.m.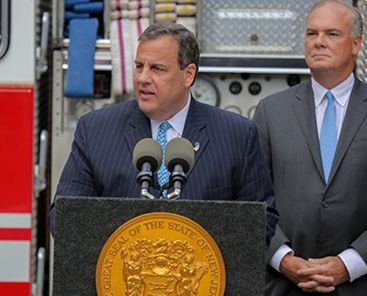 New Jersey Gov. Chris Christie stood tough and, according to some, bullied his way through the first Republican presidential debate on Thursday night in Cleveland-- leading some political pundits to suggest the portly politico made headway among the crowded field of GOP contenders.
In perhaps what was the highlight of the two hour or so debate for the governor,
Christie got into a testy exchange with rival Kentucky Sen. Rand Paul in a discussion over national security and certain tenets of the constitution—including the Patriot Act and the Freedom Act, in the much hyped event that featured 10 of the 17 Republican GOP candidates, including most notably billionaire businessman Donald Trump.
In one misstep, Christie said, "A hundred ninety-two thousand private sector jobs have been created in the five and a half years since I've been governor."
According to the Bureau of Labor Statistics, the Garden state did create about 181,000 new private sector jobs between January 2010 to June of this year. However, the number loses significance because the states' overall job growth still ranks it near the bottom (44th) out of 50 states. Add to the mix that the number of state unemployment claims topped 217,000 for the most recent week—one of the highest its been in several months—and the increase in jobs becomes a moot point—especially on a national level.
Bloggers reaction to Christie's performance was mixed.
"Trump made Christie look bad with the all of the job losses in New Jersey through the casino closings in Atlantic City," blogger Debra E., posted. Political consultant, Matt Hale of Seton Hall University in South Orange, NJ said the governor held his own. Hale said, "He didn't have to talk about things he didn't want to talk about—Bridge-Gate or Sandy." The next Republican debate will be held Sept. 16 at the Ronald Reagan Presidential Library in California.