Beyonce covers the September issue of Vogue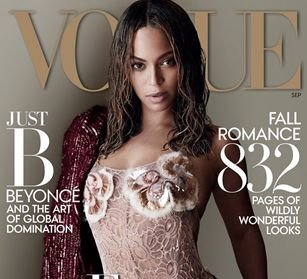 Rihanna, move over. Taylor Swift, take a seat. Beyonce is still the reigning Queen B.
The "Flawless" singer covers the coveted September issue of Vogue magazine, her trademark blond tresses darkened and wet, wearing a gown by Marc Jacobs, who tells the magazine, "The word diva is used for so many female performers, and it often means they have reputations for being difficult, but she exudes charm and a lovable quality."
This is Beyonce's third time on the cover of the fashion bible and the third time an African-American woman has graced the cover of the September issue (Naomi Campbell, 1989 and Halle Berry, 2010).
Inside, Beyonce, 33, is being heralded for her kick ass work ethic, her ambitious sartorial choices, her unabashed sensuality and for being a boss in an industry dominated by men and misogyny.
According to Vogue, "Beyoncé is a powerhouse. She can sneer. She can out-strut and stare down any man in the film frame. Call her, in the songs, She Who Must Be Obeyed — in the palace, in the bedroom, in the hood, on the road, and on the runway."
"She's the whole package: primal, rare, delicate, beautiful, and powerful," added designer Stella McCartney. "Her appeal crosses art forms, genders, and generations."
Vogue also released a behind-the-scenes video of Beyonce's cover shoot.
The September issue of Vogue goes hits newsstands on Aug. 25.
Follow me on Twitter @ShondaMcClain.