Body cameras mandated for New Jersey troopers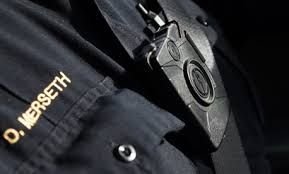 New Jersey became one of the first states in the country to purchase more than 1,000 body cameras to outfit all of the state troopers, officials announced last week in Trenton—making the use of body cameras a mandate and costing the state more than $1.5 million.
The push and ultimate required use of body cameras by police comes in the wake of a number of high profile national incidents involving law enforcement agents and unarmed citizens—particularly African Americans. To that end, earlier this year, state officials from Newark, Jersey City and Paterson announced plans to enact legislation that would outfit local and municipal police officers with body cameras and local officers in those three cities will be outfitted with body cameras as early as October. Acting Attorney General John Hoffman said the palm sized devices will be purchased in batches throughout the next year and distributed to troopers.
Reaction to the new law has been mostly positive. Blogger Karen Petrosie in Howell, NJ posted, "Good move and worth the money!"
But others caution while having all officers wear body cameras is a good thing, doctored video and purposeful delay in turning the device or off could pose a problem. One former police officer blogger posted, "Body cams should be part of a locked system in order to maintain the security {and accuracy} of the video." He added, "Original police vehicle cams would activate automatically and could not be turned off and {the footage} could not be altered because of the software."