Lawnside Historical Society Hosts First Harlem Renaissance Fair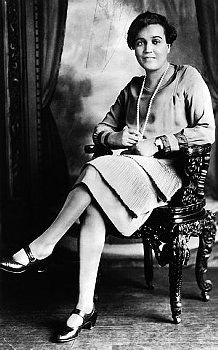 The Lawnside Historical Society will celebrate the Spirit of the Harlem Renaissance with its first Harlem Renaissance Fair and eighth poetry competition honoring Jessie Redmon Fauset, Saturday, May 16 at Lawnside Public School, 426 E. Charleston Ave. Doors open at noon.
The fair, will feature poetry readings and performances, the music of Nasir Dickerson and the Renaissance Messengers and other entertainment. Mr. Dickerson holds undergraduate and graduate degrees in music from the University of the Arts. He has opened for jazz legends such as Donald Byrd, Cyrus Chestnut and performs with his group throughout the metropolitan area. He teaches music in the Camden school district. A variety of vendors will be on hand selling jewelry, arts, clothes and books.
The competition, open to fifth through 12th graders from Camden, Burlington and Gloucester counties, is designed to encourage youth to write original poetry in the vein of the Harlem Renaissance, an intellectually vibrant era in the early 20th century for Black America. The competition theme is "Misperceptions and Stereotypes."
Winning poets will read their works starting at 2 p.m. where cash prizes and certificates will be awarded. Entry forms have been mailed to schools, libraries and homes and can be downloaded from lawnsidespiritoftherenassaince.wordpress.com. The deadline to submit is May 1.
The Harlem Renaissance Fair and the Spirit of the Renaissance Poetry Competition are funded by a grant from the Camden County Cultural and Heritage Commission at Camden County College through the Local Arts Program of the New Jersey Council on the Arts, Department of State, a partner agency of the National Endowment for the Arts.
The program is free to the public.
Miss Fauset was literary editor of the NAACP's Crisis magazine for seven years during the 1920s, the height of the Harlem Renaissance. She was a novelist, poet and short story writer like her contemporaries Langston Hughes, Countee Cullen and Zora Neale Hurston. She was born in Lawnside while her father was pastor of Mount Pisgah African Methodist Episcopal Church on April 26, 1882.
Miss Fauset received her education in Philadelphia, a graduate of Girls High School. She was a 1905 graduate of Cornell University and earned a master's degree in French from the University of Pennsylvania.
Langston Hughes, Harlem's poet laureate, called Miss Fauset the mid-wife of the Harlem Renaissance for nurturing him and others by providing an outlet for their voices and published work. She eventually married, returned to high school teaching and died in 1961 in New Jersey. The Society began honoring Miss Fauset in 2004.
The Lawnside Historical Society is a nonprofit, tax-exempt organization dedicated to the preservation of the Peter Mott House and the promotion of Lawnside's heritage as a uniquely African-American town.