Rep. Clyburn urges Cheyney University students to vote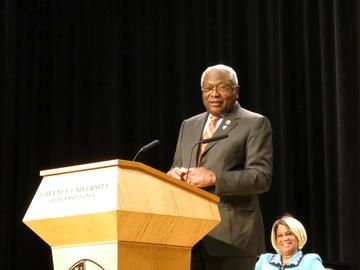 Congressman James Clyburn (D-6th, South Carolina) kicked off Cheyney University of Pennsylvania's Presidential Lecture Series with a bang Wednesday, April 1, by taking an auditorium full of students, faculty, staff, alumni, and community members on a national historic journey. The self-proclaimed history buff recalled key events, not necessarily the way all of America remembers them, but by the way, he says, it really was. The author of Blessed Experiences (Genuinely Southern, Proudly Black), an autobiography of his role in the civil rights movement and his climb to leadership, spoke candidly and passionately.
The Assistant Democratic Leader in the 114th Congress and number three Democrat in the House began by acknowledging that Cheyney was founded in 1837, 17 years before the US Supreme Court overturned an earlier ruling, thus permitting slavery throughout the country. Ironically, he said, "that dreadful decision meant that a graduate from this school, even a professor from this school, traveling in a southern state, could have been subjected to slavery."
Without a single paper or note on the podium, Rep. Clyburn told story after story, weaving in all kinds of history from the 1964 Civil Rights Act and the 1965 Bloody Sunday March on Selma, to the passing of historic legislation creating Medicare, Medicaid, Head Start, the department of Housing and Urban Development, Elementary and Secondary Education, and voting rights for African Americans. We can't sit back and allow lawmakers to pass legislation and the Supreme Court to overturn laws that don't help us, he contended.
"We need a renewal," Clyburn declared. "Anything that's out of control can happen again. A lot of people believe that our country moves in a lineal fashion--from point A to point B to point C. The country never has and never will move that way. Our country moves like the pendulum on a clock--right and left and right again. The only thing that stops the movement from left to right is the intervention of voters. How far the country moves right depends on how many voters participate. When you fail to vote, you get what you deserve."
Pennsylvania is not immune to this, Clyburn contended, reminding the crowd of the Voter ID law, purported to prevent fraud and keep public confidence in the fairness of the election process, that passed in the Keystone state before the last presidential election. "The person who organized that," Clyburn insisted, admitted in front of TV cameras that he did it, not to really know the identity of who is voting, but that so Mitt Romney could get on the ballot in PA, and he succeeded. "The time has come for an intervention," he admonished.
Rep. Clyburn also addressed the elephant in the room. His alma mater, South Carolina State University, the state's only public Historically Black College & University (HBCU) is struggling to survive just like Cheyney, the nation's oldest HBCU, and the oldest of PA's 14 State System of Higher Education institutions, is.
"I know the value of these institutions. HBCUs are the most consequential institutions because they nurture like no other institution," Clyburn stated. "Nurturing is the most important. It doesn't matter if you graduate in four years. What matters is if you are successful when you graduate, no matter how long it takes."