Phillies Players To Watch
Looking into the teams' future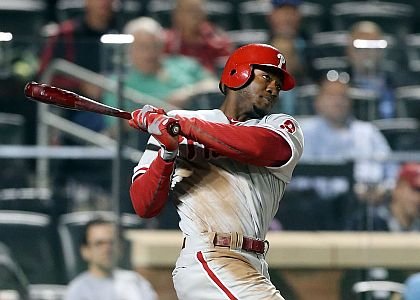 Six years after their last World Series appearance and seven years after they won it, the Phillies are now languishing in the basement of not just the NL East, but all of baseball. Bad contracts, a lack of minor league talent moving up to the Majors and a cascade of injuries have combined to make the last few seasons in the City of Brotherly Love sad indeed. However, even with Ruben Amaro, Jr. at the helm, there's actually a case for optimism in Philadelphia this year, as a true rebuilding season is on the books for 2015. But can the big moves be made that can net the Phillies the future talent that will be part of the next NL East contender in a couple years?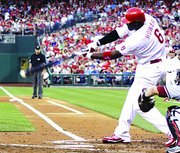 Offense: The core of this roster has not changed very much since this team was good in the mid-late 2000's. Guys like Chase Utley, Jimmy Rollins, and Ryan Howard carried the team back then, but not anymore. With Rollins now gone from this franchise, we shall see if the organization will use this year as a transition year to younger players with more upside. The problem with this is that the Phillies are at the bottom of the barrel in terms of young minor league talent.
With the Rollins trade, Freddy Galvis will get his shot to play SS every day. Offensively, he is better than his career offensive numbers but he really has to show it this season or he will be replaced. The problem is that the Phillies really lack a viable replacement should Galvis struggle.
Darin Ruf, Kelly Dugan and Maikel Franco will all benefit if Howard is traded. Howard was healthy and hit for some power, but clearly was nowhere near the dominant offensive player he was during the Phillies' NL East winning streak. Utley had a very good 2014 season and if he continues to stay healthy, he is expected to duplicate his career averages. Ben Revere was solid for the team as well. If the Phillies want to surprise anybody this season, they need a big bounce back season from Dominic Brown who will be back in RF after playing LF in 2014. The Phillies need him to become a power guy once again, but it doesn't seem likely for him to duplicate his 27 HR 2013 season.
Player to Watch: J.P. Crawford was the first-round pick of the Phillies in 2013, and he has shown promise. Now that Rollins is gone, there is nobody of note who will be blocking him from making it to the big leagues. Crawford is a great defender who projects to be a future leadoff man. He has great skills to get on base, and he has above average speed and can steal bases. He has proven to have a low strikeout rate and a high walk rate so far in the Minor Leagues as well. After finishing last year with a strong half at high A ball, he will start the year at AA and has a chance to make the jump to the Phillies at some point in 2015 at the age of 20.