Want Back In
Ask Alma
Alma Gill | 10/13/2014, 6 a.m.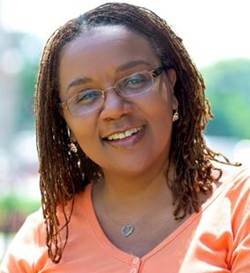 Dear Alma,
I've come to my senses and want to be back in the relationship I just left for no good reason. But I'm afraid my ex, who is very concerned with self-respect, will not allow herself to forgive me and get back with me again. How do I show that I'm prepared to do whatever it takes, until she feels comfortable taking me back?
I'd suggest you start a list of baby, baby please, love songs to be played outside her window, LOL. "Aint Too Proud to Beg", by the Temptations comes to mind, but that might be a little too old school for you. Ahh, how about, Brian McKnight, "Back at One." That's a good one. Oh, oh, watch out, Luther, Gerald, somebody help me, I'm giving myself the vapors, LMBO!
Seriously tho, I think you're bored, lonely, reminiscing down memory lane. Stop it, leave that girl alone. You can't unbreak her heart. TBT Coconut Chuck, I'm not buying you broke up for no reason; there's "always" a reason. Let's keep it real, you may not be ready to deal with the truth, but there was a reason or two or three.
She wasn't the one back then, and she isn't the one now, which is why you could walk away. Keep paddling past this premature pause in your sea of loneliness. I promise, you won't be there long if you focus on your future.
Alma
Playing the Dead Boyfriend Card
Dear Alma,
When I lost my boyfriend of six years to cancer last year, I thought: I'm done. No dating. No more men. I was just going to throw myself into my work and my only child. After that, I started hanging out with someone I've been friends with for more than 20 years. We had talked pretty much all year while my boyfriend battled his illness and my friend was ultra-supportive during the darkest of days. Sometimes he would just listen and other times he would make me laugh or otherwise motivate me to get out of my funk. He's funny, smart and very blunt most days. He and I dated WAY back in the day in our 20s and he was too serious for me and I had to end it. It hurt to leave him, but I knew I wasn't ready for a commitment yet. Now present day, he has had to witness my sensitivity and sometimes fears about death, dying and cancer. I seem to see it everywhere after losing not only my boyfriend, but my best friend — both at 46 last year. Yes, he has been patient. But now he says he's had enough of me "playing the dead boyfriend card." He says I have to toughen up and stop being so sensitive or else we won't have a relationship. What do I do? Seek more therapy to vent to a professional with my grief and not talk to him about my feelings? Or leave him alone and just grieve and go about my business?