Dr. Frank G. Pogue Named Interim President of Cheyney University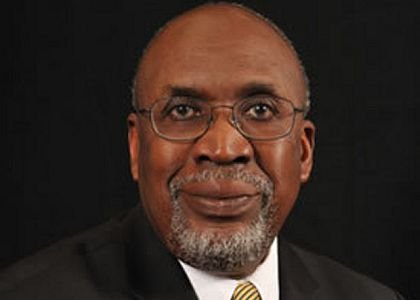 Harrisburg – Dr. Frank G. Pogue, who retired in June as president of Grambling State University in Louisiana, Oct. 9 was selected by the Board of Governors of Pennsylvania's State System of Higher Education to serve as interim president of Cheyney University of Pennsylvania.
Dr. Pogue was president of Edinboro University of Pennsylvania for 11 years, from 1996 through 2007. He then served briefly as interim president of Chicago State University before taking over first as interim president of Grambling in December 2009, then as permanent president six months later.
He will assume the duties of interim president of Cheyney University Nov. 3. Provost and Vice President for Academic Affairs Dr. Phyllis Dawkins will continue in her dual role as the university's acting president until then.
"Dr. Dawkins has provided immeasurable contributions as acting president and will continue to do so when she resumes her role as provost—guiding the next evolution of Cheyney's academic enterprise," said State System Chancellor Frank T. Brogan.
"We were extremely fortunate to find an interim president for Cheyney University who has more than 50 years of distinguished service in higher education, including nearly two decades as the president or interim president of four different institutions," said Board of Governors Chairman Guido M. Pichini.
"Dr. Pogue knows the State System from the 11 years he served as president of Edinboro University," Mr. Pichini continued. "He understands the unique challenges facing Historically Black Colleges and Universities from his recent leadership of Grambling State University. He will provide a strong, steady hand to lead Cheyney during this period of transition and has both the experience and the vision to move the university forward."
Edinboro University experienced unprecedented growth and advancement in academic programs, graduate enrollment, campus facilities and fund raising during Dr. Pogue's more than decade-long tenure as its president. The student center was renamed in his honor following his departure from the university.
"In Frank Pogue, Cheyney University will have a leader who throughout his career has always put students first. He will be a great addition to the leadership team at Cheyney," said Mr. Brogan. "I look forward to his return to the State System and to working with him to help ensure a bright future for the university."
"The selection of Dr. Pogue to serve as interim president of Cheyney University is great news for the institution," said Council of Trustees Chairman Robert W. Bogle. "He is a proven, experienced leader who we already know. He has the demonstrated skills to lead an institution like Cheyney, and I am confident he will do an outstanding job for the university and our students."
Dr. Pogue said he is looking forward "with great anticipation to joining Chancellor Brogan, Trustee Chair Bogle and the entire Cheyney family to continue a relationship that I have had with the university for many years."
"Although I have not been formally employed by Cheyney, I have worked around the university for many years," he said. "I am fully aware of the many academic success stories that are about the institution and I am also aware of some of its current challenges. I am going to use the experience that I have to build on the successes of Cheyney University and will work with everyone to prepare the university for new presidential leadership."