Porsha Williams demoted on 'RHOA'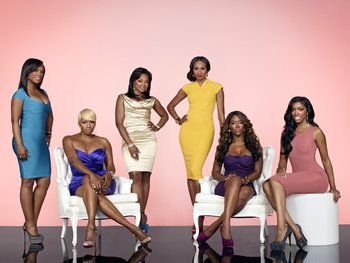 When season seven of "The Real Housewives of Atlanta" (RHOA) kicks off in November, #TeamPorsha fans will be disappointed. Williams was not fired from the hit reality show after her brawl with cast mate Kenya Moore during the season six reunion show, but she may be paying a price. Bravo executives have reduced Williams to a secondary role on the new season of "RHOA," and her demotion has Williams calling foul.
"I was blindsided by the announcement from the network that I was demoted from 'Housewife Status,' but would remain on the show in a 'Friend' capacity," Williams said in a statement.
Fellow cast mate Kandi Burruss expressed her disappointment about the change via Instagram.
"I'm excited about the new season of #RHOA coming back on November 9th because it's gonna be good!!! BUT I'm sad that @porsha4real isn't on this pic with us….," Burruss wrote alongside the season seven promo photo that features all of the "Housewives" except Williams.
But, according to US Weekly, Williams should have seen this coming.
A source told the magazine that Williams' role on the show had been changing for some time. "Porsha didn't have much going on this season, so as filming went on, it was more interesting to follow the other women," the source said. "She became less of a cast member. In no way was she blindsided by this."
But don't cry any tears for Williams. The resourceful diva has more than one iron in the fire.
"This moment is bittersweet, but God has been so amazing to me, and I think this is a perfect time for me to spread my wings and finally focus on all of my upcoming projects," she continued. "In addition to having a recurring role on RHOA, I will be able to focus my attention on my career."
Her "career" is as a permanent co-host on the gossip show "Dish Nation," as well as other business ventures.
"This is the beginning of a new chapter in my life and I will be giving my fans & supporters another chance to watch my growth as I take on the world in my own special way very soon," she said.
Season seven of "The Real Housewives of Atlanta" kicks off on Nov. 9 with cast regulars Kandi Burruss, Kenya Moore, NeNe Leakes, Phaedra Parks, Cynthia Bailey and newcomer model Claudia Jordan.
Follow me on Twitter @ShondaMcClain.