Preview of Eagles vs. Cowboys Thanksgiving Day Game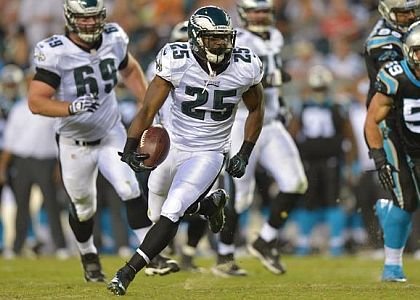 Thanksgiving is this week. What better way to celebrate than to watch two of the NFL's best go head to head in an NFC East battle. The Philadelphia Eagles will be taking on the Dallas Cowboys at AT&T Stadium at 4:30 p.m.

The Philadelphia Eagles own a 4-1 all-time record in Thanksgiving Day games. Their last appearance on Turkey Day was a 48-20 drubbing of the Arizona Cardinals in Philly. One of the most memorable games in Philadelphia Eagles history was played on Thanksgiving in 1989, where the Eagles crushed the Cowboys with a score of 27-0.
Let's take a look at where the two teams sit right now, then you can place your bets on who comes out on top.
Offense
In a flip flop from last season, Dallas is now the NFC East's dominant run team (second in the NFL with 153.2 yards per game) while the Eagles are mid-level (14th with 114.2 yards per game) after leading the NFL last year. The 'Boys throw it 234.3 yards per game on average (14th), compared to the Eagles' 292.6 (4th). Only the Colts and Saints throw the ball more than the Eagles, and only the Seahawks, Browns, and Texans run it more than Dallas.
The Cowboys are riding a dominant offensive line led by Tryon Smith, Zach Martin, and Travis Frederick. They made history earlier this year with DeMarco Murray's first eight games going over 100 yards each. They've combined this run game with Tony Romo's explosive passing attack, and balance has made Dallas a legit contender.
Dallas has DeMarco Murray and their run game to attack the middle of the defense, and have Dez Bryant, Jason Witten, and Terrance Williams to attack the seams and the outside.
As for the Eagles, the rushing attack hasn't been as potent as last year (LeSean McCoy with 729 yards, two touchdowns and Darren Sproles 257 yards, four touchdowns as of Week 1), when they took the NFL by storm. The outsize zone read runs haven't been as explosive and McCoy has had a tougher time getting loose into the second level. Injuries on the line haven't helped in that area.
Despite their struggles, Philly is continuing to do some things really well, and on offense, the passing game has ramped up. Chip Kelly's ingenuity in his offensive schemes give his quarterbacks well-defined reads and help get receivers open and in space. Jeremy Maclin has led the way for Philly in a bounce-back season. Rookie Jordan Matthews has also made significant strides on offense.
The biggest story on the offensive side of the ball has been Nick Foles' injury and Mark Sanchez's promotion to starter. Foles' numbers had dipped from last year's improbably efficient outburst, and now the Eagles face the prospect of going through the ringer to end the year with Sanchez under center. The former Jet performed well in his first outing, throwing for 322 yards and two touchdowns against Carolina, but he wasn't close to enough against the Packers in Green Bay, connecting on 26 of 44 passes for 362 yards, two touchdowns and two interceptions.