Gugu Mbatha-Raw stars in 'Beyond the Lights'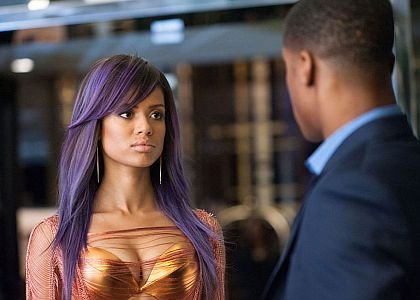 Gugu Mbatha-Raw, who starred in the indie break out hit, "Belle," is ditching her prim and proper cotton corsets and bustled skirts for more revealing leather bustiers and mini-skirts for her new role as a pop princess.
Mbatha-Raw's latest role in "Beyond the Lights," directed by Gina Prince Bythewood ("Love and Basketball"), finds the actress channeling her inner Rihanna, replete with purple highlights, to play the role of Noni Jean, an up and coming singer who is forced by the music industry and her momager (Minnie Driver) to shed her good girl image and her clothes – for the sake of fame. Noni meets Kaz (Nate Parker) who is assigned to protect her and the two fall for each other, but not without complications.
"Beyond the Lights" explores how the music industry packages and exploits female talent. The point, according to Mbatha-Raw, is to "push buttons and provoke."
"The culture has reached a new low for women," she told Vanity Fair. "There's no more mystique. Everything is out there to be consumed."
Mbatha-Raw and Bythewood took inspiration from a variety of artists, including Alicia Keys, and the actress read biographies of Judy Garland "for the mother-daughter dynamic."
She prepared for the role by taking voice lessons (it is her voice on the soundtrack), training with Lady Gaga's former choreographer, Laurieann Gibson, and she studied Beyonce and Rihanna's live performances.
But, the Royal Academy of Dramatic Arts trained actress told Vanity Fair, practicing those sexy dance moves in front of the mirror "was cringe-worthy! It took me a very long time to look myself in the eye!"
Mbatha-Raw, 31, also immersed herself in the music – switching out her beloved Ella Fitzgerald and Miles Davis albums for hip-hop – a musical genre she is not very fond of because of its "misogynistic" messaging.
"I have to say, I did learn to appreciate it," she told The New York Post, but she was "somewhat relieved to be able to go back to my own playlist after the movie."
"Beyond the Lights" opens in theaters Friday.
Follow me on Twitter @ShondaMcClain.