Obama Nominates Loretta Lynch For Attorney General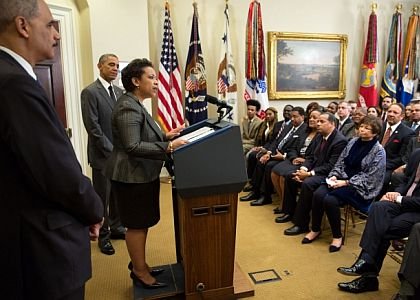 President Barack Obama announced on Saturday that he would nominate U.S. Attorney Loretta Lynch as his choice to be the next attorney general. If confirmed, Lynch would be the first black woman to lead the Justice Department.
Obama said Lynch has a fierce commitment to equal justice and a solid record as a tough, fair federal prosecutor.
Obama said at a White House ceremony Saturday that it's "pretty hard to be more qualified" for the job of attorney general than Lynch. Outgoing Attorney General Eric Holder was also at Saturday's announcement. Holder, the first black head of the Justice Department, has announced plans to retire.
"She has spent years in the trenches as a prosecutor, aggressively fighting terrorism, financial fraud, cybercrime — all while vigorously defending civil rights," the president said.
"Loretta might be the only lawyer in America who battles mobsters and drug lords and terrorists, and still has a reputation for being a charming people person," Mr. Obama said.
Lynch, 55, is the U.S. attorney for Eastern New York, which covers Brooklyn, Queens, Staten Island and Long Island, a position she also held under President Bill Clinton.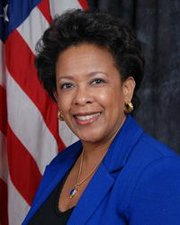 Born in Greensboro, N.C., Lynch earned undergraduate and law degrees from Harvard University. She first rose to prominence for her work prosecuting members of the New York City Police Department for the 1997 case in which a Haitian immigrant, Abner Louima, was beaten and sexually assaulted with a broom handle. The case became a national symbol of police brutality and was fraught with racial sensitivities, as it involved white police officers accused of assaulting a black man.
On Saturday, Mr. Obama called the case "one of her proudest achievements." He also portrayed Ms. Lynch as apolitical, noting that she had brought charges against public officials "in both parties," and had twice won unanimous Senate confirmation.
She's overseen bank fraud and other public corruption cases. She also charged reputed mobster Vincent Asaro and his associates for the 36-year-old heist of $6 million in cash and jewelry from a Lufthansa Airlines vault at Kennedy Airport, dramatized in the blockbuster movie "Goodfellas."
Republicans are promising tough scrutiny after years of battles with the long-serving Holder. He is close to Lynch and appointed her as chair of a committee that advises him on policy. Since Lynch is unfamiliar to many on Capitol Hill, senators will have to quickly get up to speed on her record.
The Associated Press contributed to this story.