The only thing we have to fear is fear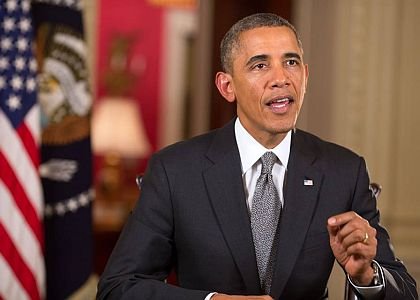 When President Franklin D. Roosevelt assumed the presidency at the depth of the Great Depression he helped the American people regain faith in themselves when he asserted in his Inaugural Address, "the only thing we have to fear is fear itself."
President Barack Obama has tried to help the American people overcome their current fears of two major issues now dominating the news - the spread of the Ebola virus and the spread of Islamic State extremists.
Yet despite Obama's efforts, a Washington Post poll found that 43 percent of Americans are "very worried" or "somewhat worried" that they or their immediate family members will contract Ebola. In a CNN poll, 45 percent described the Islamic State as a "very serious" threat.
The spread of Ebola in West Africa, and now into Dallas, has unfortunately stoked plenty of fears and misinformation about the virus.
To address these concerns, President Barack Obama has sought to quell nationwide fears about the deadly disease, and noted that the Centers for Disease Control and Prevention would be sending rapid response teams to any site within the U.S. where an Ebola diagnosis was made.
"I want people to understand that the dangers of you contracting Ebola, the dangers of a serious outbreak in this country are extraordinary low, but we are taking this very seriously at the highest levels of government," said Obama
Unfortunately the president's calm, rational approach will not stop some elected officials and 24/7 media and Cable TV coverage from spreading misinformation and fear.
Sen. John McCain, R-Ariz., claimed recently that the isolated cases of Ebola in the United States directly contradict the assurances of Obama and his administration.
"We were told there would never be a case of Ebola in the United States," McCain said.
There is no evidence that the president or anyone in his administration ever made such a claim, according to PolitiFact, a nonpartisan fact checking website. "What officials and Obama have repeatedly said is that while there's a chance an Ebola case could appear in the United States, the possibility of an outbreak is extremely low. McCain's claim rates False", said PolitiFact.
Public fears increased after the infection of two Dallas nurses who treated Thomas Eric Duncan, who died of Ebola. This indicates that Ebola can spread even when serious precautions are taken. If you work in a hospital you are understandably concerned.
But this does not mean that Ebola is a significant risk to most Americans.
It is important to remember that Ebola is actually hard to get because it requires physical contact with the bodily fluids of someone who is not only infected but symptomatic. It's not a new virus, and the methods required to contain it are well-known—though not always easy to implement in poor countries that do not have the medical infrastructure of the United States.
Another issue in the news that has increased American anxiety is the military effort by the al-Qaida splinter group known as ISIS that is seeking to control a region stretching from southern Turkey through Syria to Egypt (also including Lebanon, Israel, the Palestinian territories and Jordan). The group's stated goal is to restore a hard-line Sunni Islamic state, or caliphate, in this entire area.
If you listen to our politicians and pundits, ISIS is close to taking over the entire Middle East and launching a terrorist attack on the United States any day now.
Are we really to believe that the most powerful military in the world and its allies including Muslim nations can't destroy these Islamic extremists? At present, ISIS isn't even strong enough to topple the severely weakened governments of Iraq and Syria.

This is not to say that the Ebola virus and the Islamic State aren't real dangers. They are. But they are not insurmountable and they pose no serious threat to most Americans.
What we really have to fear is being in a perpetual state of panic based on misinformation and oversaturation by the media. The real danger is that a frightened public may support policies and laws that would curtail the human rights of others as well as our own civil rights and liberties because of unfounded and misguided fears.
Irv Randolph is the editor and co-publisher of South Jersey Journal.