Maya Angelou remembered by those she inspired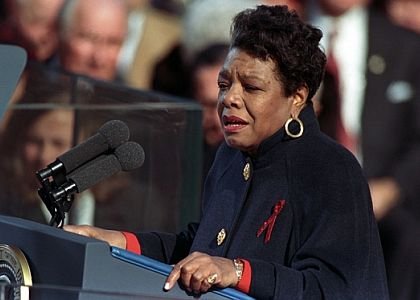 President Barack Obama and TV mogul Oprah Winfrey were among those who remembered poet and author Maya Angelou for inspiring them.
Angelou died in her Winston-Salem, North Carolina home on Wednesday. She was 86.
Angelou was an actress, singer and dancer who later became best known for her poetry and books. Her works dealt with family, powerful women, poverty and segregation with the theme that all of us are important and valuable.
Born on April 4, 1928, in St. Louis, Missouri, Angelou would spend some of her childhood in Stamps, Arkansas. Her birth name was Marguerite Johnson. She would take the stage name Maya Angelou as an adult.
Angelou studied drama and dance at San Francisco's Labor School, but dropped out to become the city's first black female cable car conductor. As a young single mother, she danced at a strip club before touring in productions of "Porgy and Bess." She worked on civil rights issues with Martin Luther King Jr. and Malcom X and met Nelson Mandela while spending several years in Egypt and Ghana.
Angelou's book "I Know Why the Caged Bird Sings" was released in 1969. She would write six more books about her life, along with more than 30 other works.
Angelou read her poem "On the Pulse of Morning" at the inauguration of President Bill Clinton in 1993. One of her best-known poems was "Still I Rise." ''You may write me down in history. With your bitter, twisted lies. You may trod me in the very dirt. But still, like dust, I'll rise."
Obama awarded the 2010 Presidential Medal of Freedom to Angelou in a ceremony in the East Room of the White House on February 15, 2011.
On Wednesday, the president released a deeply personal statement on Angelou's death:
"When her friend Nelson Mandela passed away last year, Maya Angelou wrote that "No sun outlasts its sunset, but will rise again, and bring the dawn."
Today, Michelle and I join millions around the world in remembering one of the brightest lights of our time – a brilliant writer, a fierce friend, and a truly phenomenal woman. Over the course of her remarkable life, Maya was many things – an author, poet, civil rights activist, playwright, actress, director, composer, singer and dancer. But above all, she was a storyteller – and her greatest stories were true. A childhood of suffering and abuse actually drove her to stop speaking – but the voice she found helped generations of Americans find their rainbow amidst the clouds, and inspired the rest of us to be our best selves. In fact, she inspired my own mother to name my sister Maya.
Like so many others, Michelle and I will always cherish the time we were privileged to spend with Maya. With a kind word and a strong embrace, she had the ability to remind us that we are all God's children; that we all have something to offer. And while Maya's day may be done, we take comfort in knowing that her song will continue, "flung up to heaven" – and we celebrate the dawn that Maya Angelou helped bring.
Winfrey called Angelou her "mentor, mother/sister, and friend since my 20's."
"She was there for me always, guiding me through some of the most important years of my life," Winfrey said. "The world knows her as a poet but at the heart of her, she was a teacher. 'When you learn, teach. When you get, give' is one of my best lessons from her."
"She won three Grammys, spoke six languages and was the second poet in history to recite a poem at a presidential inauguration. But what stands out to me most about Maya Angelou is not what she has done or written or spoken, it's how she lived her life. She moved through the world with unshakeable calm, confidence and a fierce grace. I loved her and I know she loved me. I will profoundly miss her. She will always be the rainbow in my clouds."
Angelou took to Twitter to send her last message to her many admirers.
Angelou's final tweet posted on May 23: "Listen to yourself and in that quietude you might hear the voice of God."
The Associated Press contributed to this story.