Christie to Rowan graduates: "Give it your all"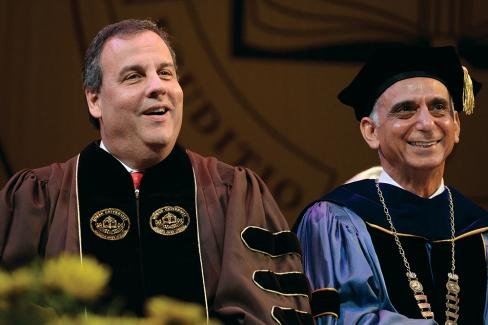 New Jersey Gov. Chris Christie – and some 2,300 Rowan University graduates – shined despite daylong torrential rains May 16 for Commencement 2014.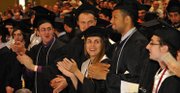 The Governor, invited to Rowan to deliver the ceremony's keynote remarks, gave an emotional, rousing address that traced his family's history in America starting with his grandmother's birth aboard a ship from Sicily.
A steady supporter of the University, the Governor, along with State Sen. President Stephen Sweeney and State Sen. Donald Norcross, received honorary Doctor of Law degrees for their cross-party backing of legislation that transformed the University.
"We are grateful that these initiatives benefitted Rowan, of course, but they also benefitted our entire state," said Rowan President Dr. Ali Houshmand. "They are improving higher education, health, business and the economy from Cape May County to Bergen County, from the Shore to the Delaware River."
Largely because of their support of 2012's New Jersey Medical and Health Sciences Education Restructuring Act and the 2012 Building Our Future Bond Act, Rowan became New Jersey's second comprehensive public research university, acquired the School of Osteopathic Medicine in Stratford, is collaborating with Rutgers-Camden in a new College of Health Sciences, and is making major infrastructure investments including new buildings for the College of Engineering and the Rohrer College of Business.
Forced change of venue
Rowan, which graduated its largest class ever, had converted the all new Coach Richard Wackar Stadium into a formal Commencement grounds with seating for more than 10,000, a stage and sound system, and huge flat screen TVs.
But while a massive storm crept across the central U.S. earlier in the week, tentative plans were laid to cancel the university-wide Commencement program and Dr. Houshmand Friday morning decided to hold indoor college-level programs instead.
Speakers, including Dr. Houshmand and Gov. Christie, addressed graduates from the College of Engineering and their guests in Pfleeger Concert Hall.
Telling the story of how he came to America, Dr. Houshmand said he grew up so poor in Iran that he went to bed hungry many nights and played soccer barefoot until his feet bled.
With the support of his brothers, he made it to England to start an education without knowing a word of English and, while earning his bachelor's and first master's degree, worked at Kentucky Fried Chicken.
"I became darn good at it," he said with a grin.
Accepted to graduate school at the University of Michigan, he moved to America to earn a second master's degree, his Ph.D., launch a career and start a family.
"I don't know if students today realize how amazing it is to be born in this country," he said. "I encourage you all to spend a month or two in a third world country and when you return you will kiss the ground, I guarantee it."
Introducing the Governor, Dr. Houshmand noted that Christie has one intangible held by all successful leaders: vision.
"At a time when higher education is under attack and in turmoil, our nation looks to our state as a model of how higher education can be reimagined and restructured," Dr. Houshmand said. "And in large part, we have our governor to thank for it."