Inspira Opens Urgent Care Center in Woolwich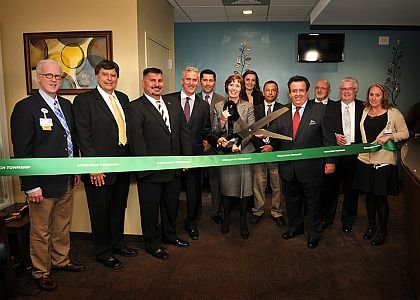 Inspira Health Network invited area residents to a grand opening event this week at its new urgent care center in Woolwich Township. At the event, attendees were able to tour the new facility, enjoy refreshments and participate in a seminar on urgent care basics and injury prevention. Physicians and staff from Inspira Urgent Care as well as Premier Orthopaedic Associates were available to speak with community members.
Inspira's recently opened urgent care in Woolwich Township provides the community with treatment for a wide range of minor or non-life threatening conditions when their doctor is not available or their condition does not require the life-saving services of a hospital emergency room.
"Inspira Urgent Care is quickly becoming a widely used health service by many families in our region," said Eileen Cardile, executive vice president of Inspira Health Network. "With our new location in Woolwich, it's even easier for our community to access and it accommodates their busy lifestyles."
With the opening of its Woolwich Township location, Inspira now operates two urgent care centers. Additional urgent care locations in Gloucester and Cumberland counties are planned for the next 12 months. Since opening in the fall of 2011, Inspira Urgent Care Tomlin Station in Mullica Hill has been very well received, with patient volumes exceeding expectations.
At Inspira Urgent Care every patient is seen by a physician, no appointment is needed, imaging services are available on-site, there are often less out of pocket costs than a trip to the ER, and common prescription medications are provided at the time of visit. Both of Inspira's Urgent Care centers are open 7 days a week from 8 a.m. to 8 p.m.
Inspira Urgent Care Woolwich Township is located at 101 Lexington Road, Suite 530 in Woolwich.
Inspira Health Network is a charitable nonprofit health care organization formed in November 2012 by the merger of South Jersey Healthcare and Underwood-Memorial Hospital. The network, which traces its roots to 1899, now comprises three hospitals, four multi-specialty health centers and a total of more than 60 locations. These include outpatient imaging and rehabilitation centers; urgent care; numerous specialty centers, including sleep medicine, cardiac testing and wound care; home care and hospice; and more than two dozen primary and specialty physician practices in Cumberland, Gloucester and Salem counties.