NAACP names Cornell William Brooks President and CEO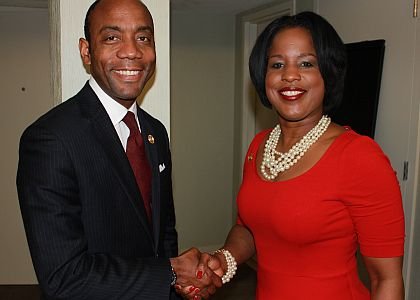 The NAACP National Board of Directors has announced its selection of Attorney Cornell William Brooks to be the Association's next National President and CEO.
"We are proud to welcome Attorney Cornell William Brooks as our new president and CEO," said Roslyn M. Brock, Chairman of the NAACP Board of Directors. "Mr. Brooks is a pioneering lawyer and civil rights leader, who brings a wealth of knowledge and experience to the Association. We look forward to leveraging his legal prowess, vision and leadership as we tackle the pressing civil rights issues of the 21st century."
The NAACP will introduce Brooks at its national convention in July in Las Vegas. Brooks succeeds past President and CEO Benjamin Jealous who resigned at the end of 2013.
Brooks is a longtime lawyer, human rights activist who currently serves as the President and CEO of the New Jersey Institute for Social Justice based in Newark, NJ.
A fourth-generation ordained minister, Brooks has worked to pass legislation enabling previously incarcerated men and women to rebuild their lives as productive and responsible citizens. His efforts have been called a model for the nation by the New York Times.
Brooks has also successfully pushed for state legislation to reduce the effects of widespread foreclosures and has worked to develop methods to employ more people in higher wage work.
Brooks has served as senior counsel for the Federal Communications Commission, executive director of the Fair Housing Council of Greater Washington and as a trial attorney with the Lawyers' Committee for Civil Rights Under Law. He has also been an advocate for public education, affordable healthcare and fiscal responsibility.
"I am deeply humbled and honored to be entrusted with the opportunity to lead this historic organization," said Brooks. "In our fight to ensure voting rights, economic equality, health equity, and an end to racial discrimination for all people, there is much work to do. I look forward to working with the dynamic board and staff, and continuing the important work of the Association in advancing racial and social justice and equality for all."
Brooks earned a Bachelor of Arts from Jackson State University, a Master of Divinity from Boston University School of Theology, and a Juris Doctorate from Yale Law School.
Founded in 1909, the NAACP is the nation's oldest and largest nonpartisan, grassroots civil rights organization.